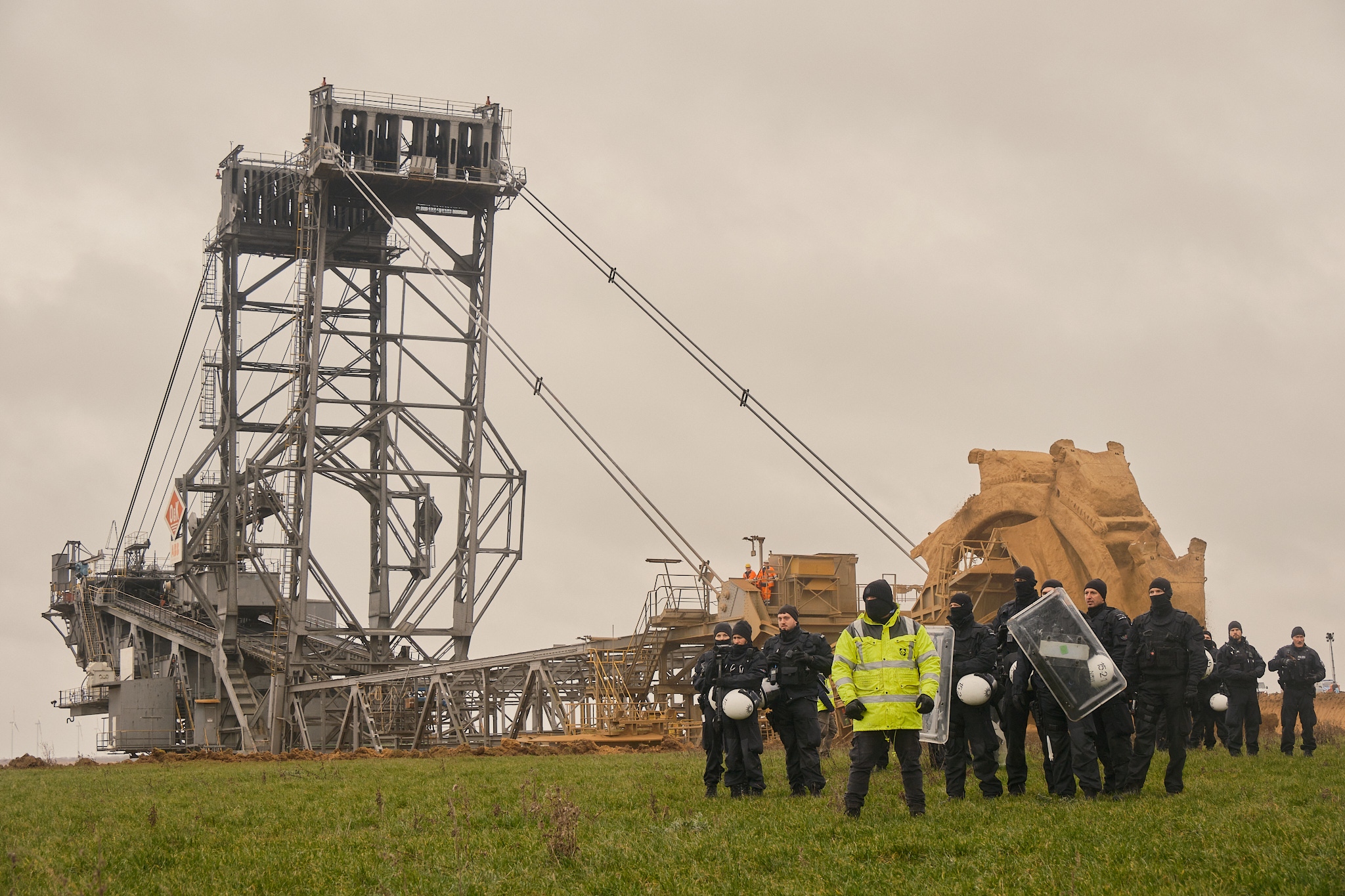 Jan 20, 2023
Lützerath: Germany needs climate action, not more coal
The destruction of the village of Lützerath for poor-quality coal symbolises a deep failure from Germany's government to ensure a sustainable supply of energy. Germany's government must now keep its promises and lead a rapid transition to renewables.
A small village in North Rhine-Westphalia has made global headlines in recent weeks: Lützerath is a new symbol of the climate movement. Beneath the village is a large amount of lignite – the lowest quality coal - that energy giant RWE wants to excavate and burn. This is another step on the road to climate breakdown. Instead of accelerating the climate crisis, Germany's government must finally take strong climate action and drive a sweeping change towards 100% renewable energy.
It is inconceivable that, in 2023, climate activists are being forced to put their bodies on the line to block the huge excavators poised to rip up Lützerath. When it was elected, the German government made promises to advance climate action in the country. However, in light of the current energy crisis this push for sustainability seems to have been indefinitely postponed. Instead, the most polluting fossil fuel is resurgent. Yet a secure energy supply and a stable climate are not contradictory; in fact, they go hand in hand.
Coal that Germany does not need
Germany was supposed to finally phase out coal by 2038 and "ideally" by 2030. An agreement between the energy company RWE and German authorities agreed a phase-out of lignite in the Rhenish coalfield, in which Lützerath sits, by 2030. However, the agreement allows coal to be mined under the village of Lützerath - even though studies by Aurora Energy Research and the German Institute for Economic Research, among others, conclude that that coal is not needed for a secure energy supply.
Thousands of climate activists and organisations have fiercely opposed lignite mining under Lützerath, and several hundred scientists have spoken out in favour of a moratorium. This mine will destroy an entire village. Residents have been evicted from their homes to clear the way for massive mining equipment to tear the town apart. This is all for coal Germany does not need, but which will accelerate the climate crisis and significantly undermine Germany's credibility on the world stage.
Renewables are the way out of the energy crisis
The previous German government introduced new climate legislation in 2021, intended to cut emissions and accelerate the green transition. However, as 2023 begins, the outlook is bleak: according to the think tank Agora Energiewende, CO2 emissions plateaued at a high level in 2022. An increased use of climate-wrecking coal and gas is partly to blame.
Climate action is not a cost; it is the greatest investment Germany, and the world, could possibly make. Avoiding the vast human and economic damage of the climate crisis would be reason enough to race to zero carbon as rapidly as possible, but this transition also offers other immediate, direct benefits. It is an opportunity for Germany to create good green jobs, boost energy security, and lead the world in exporting climate-friendly technology.
In 2021, 22.2% of the energy consumed in the EU was generated from renewable sources. According to German government plans, by 2030, at least 80% of Germany's electricity consumption should come from green energy. The German government must now invest massively in the expansion of renewables. Ending the vast subsidies given to fossil fuel companies every year – from taxpayers' money – would provide a ready source of finance for a sustainable future.
Like other high-polluting nations, Germany's reliance on fossil fuels is already contributing to people elsewhere losing their livelihoods, their homes and their most basic rights. Those who contribute the least to the climate crisis are suffering its worst effects, a miserable pattern we see repeated from flooding in Pakistan to severe droughts and starvation in the Horn of Africa. Every moment a wealthy nation fails to cut its emissions, these injustices worsen. Germany therefore has a responsibility to provide climate finance for those on the front lines, contributing to global climate justice.
Germany can rapidly build new energy infrastructure: a terminal for liquefied natural gas was recently built in under six months. The German government must now show the same ambition for renewables. It must keep its climate promises and take the decisive action needed to protect people around the world from climate catastrophe. We need a complete coal phase-out by 2030, without dirty deals with energy companies - this is the only way Germany can play its part to stabilise the global climate and ensure climate justice.
Cover image: mining equipment in Lützerath, courtesy of Alle Dörfer and reproduced here under a Creative Commons License.