Since July 2020, 47 fishing communities across Thailand have joined our Net Free Seas recycling programme. Together they have removed eight tonnes of discarded plastic fishing nets from the ocean that have been recycled to make over 50,000 items – including visors for Covid-19 protection. This year we plan to do even more – and expand the scheme to Ghana and Indonesia.
At least 10% of global marine litter is thought to be fishing nets. This means that between 500,000 and 1 million tonnes of fishing gear enters our ocean every year.
In Thailand, with a fishing fleet of over 10,300 commercial vessels and more than 50,000 small-scale fishing vessels, these floating death traps pose a serious threat to ocean wildlife. Discarded fishing nets are reported to have killed or seriously injured over 300 marine animals including dolphins, dugongs and turtles in Thai waters in 2017.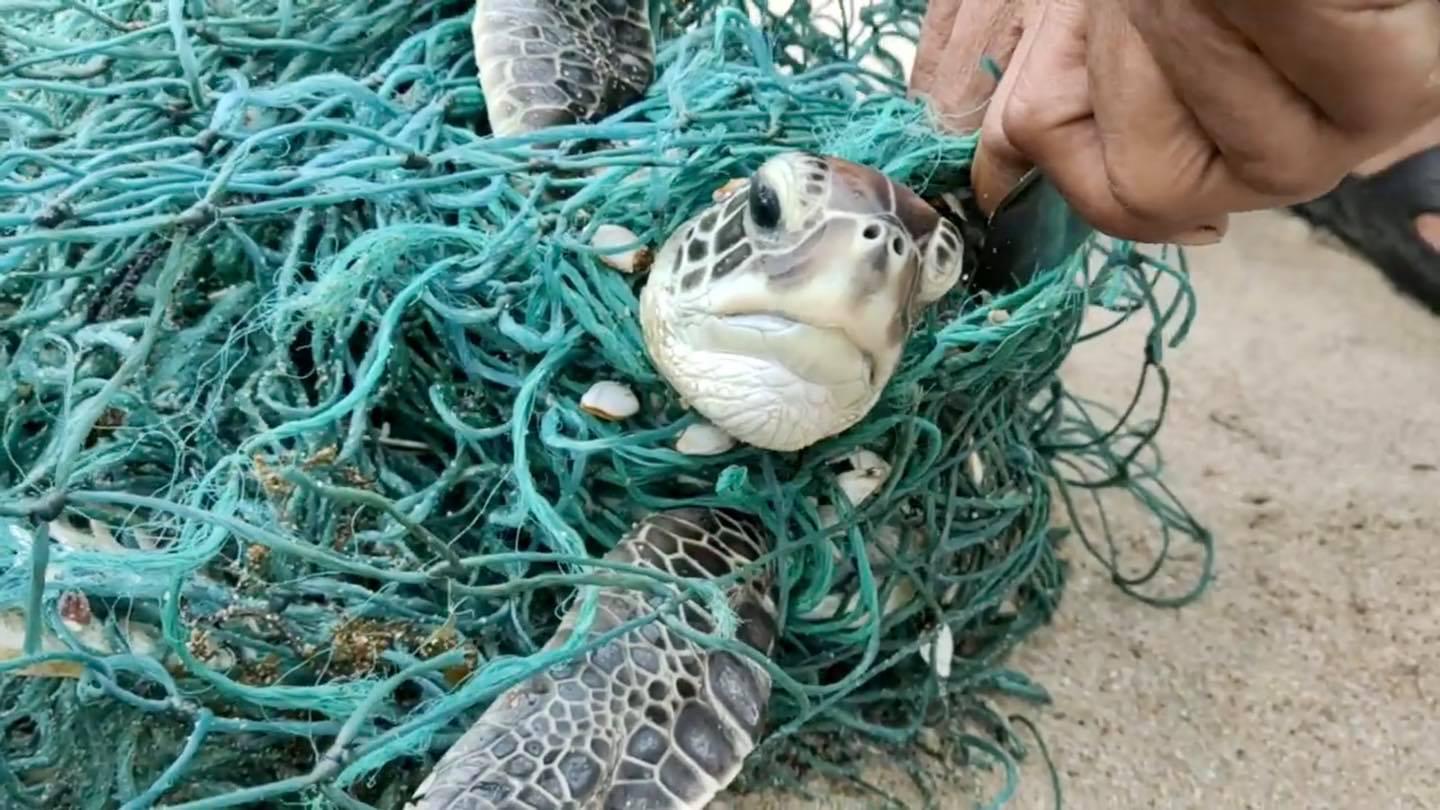 For communities and wildlife
Net Free Seas is designed for local communities and ocean wildlife. Local people are consulted at every step – deciding where the nets are gathered, how often collections take place and where the sales money should go.
I see this as a career opportunity for my community. Those who cannot go out fishing can collect and clean nets for a living - Imron Baikharee, the son of the community chief in Chana district, Songkla province.
One community has built their own net cleaning and sorting stations designed to better mechanise the process and reduce the time it takes to get the nets ready for recycling.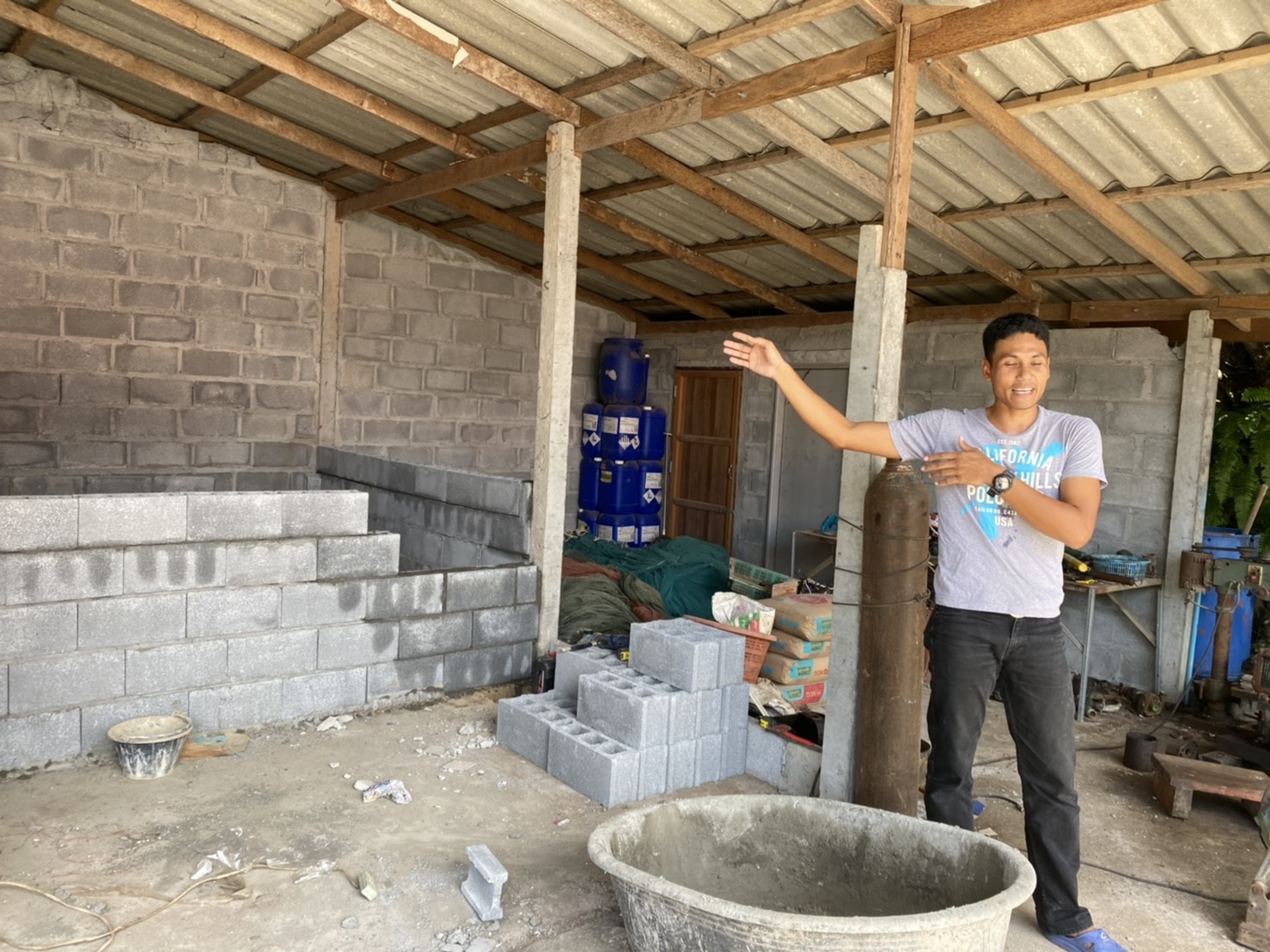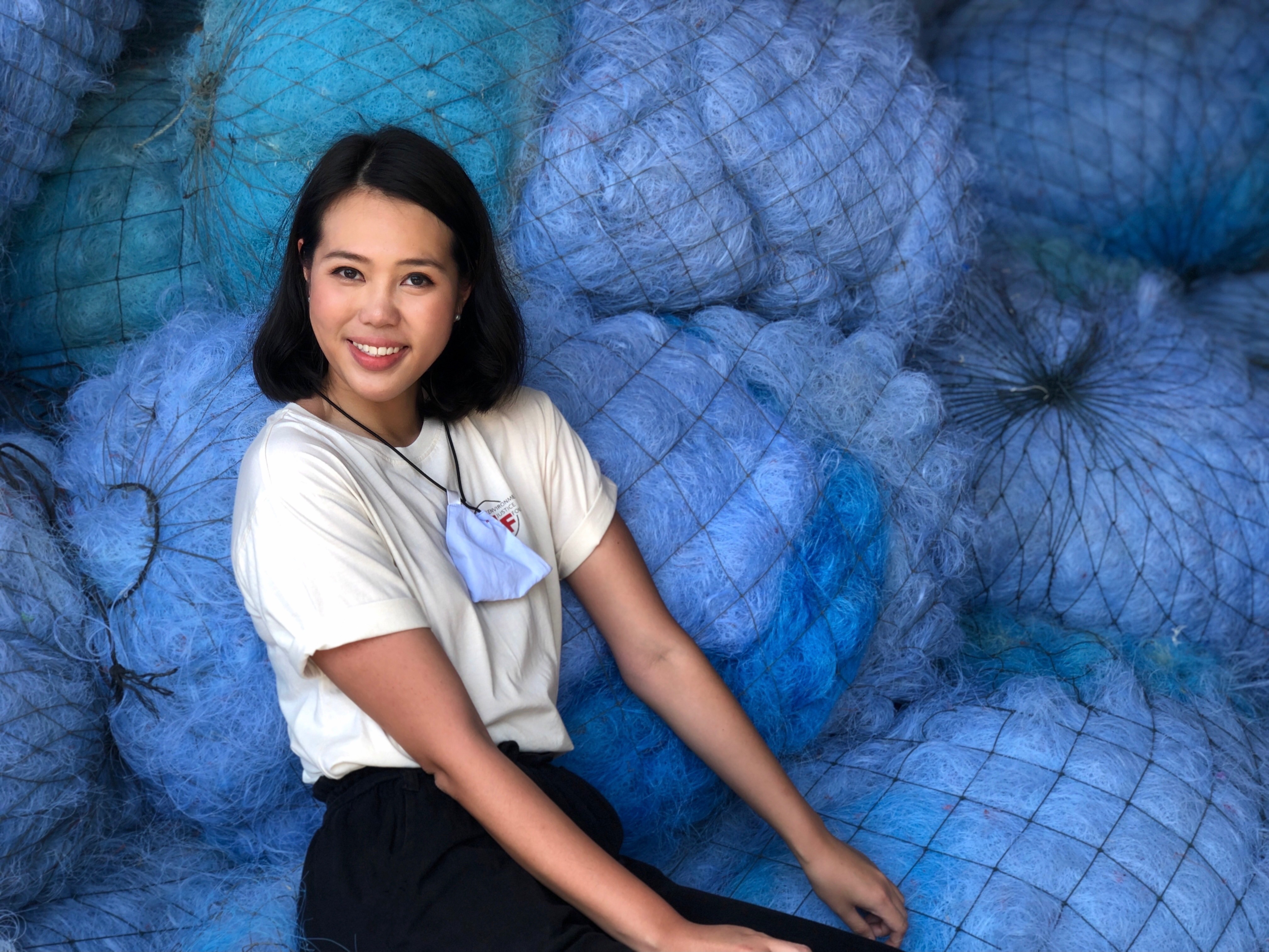 We empower local communities to tackle marine plastic pollution that is threatening their livelihoods. Making equal participation from all stakeholders the essence of Net Free Seas enables us to create a sustainable solution that is beneficial and practical for all
Ingpat Pakchairatchakul, Senior Campaigner for EJF's oceans campaign.
The collected nets are sold to Thai recycling and manufacturing companies to make into a range of new products, including Covid-19 face shields and household items.
Net Free Seas has already built relationships with two recyclers and one product manufacturer. Over 50,000 items made from discarded fishing nets have been produced and sold domestically and internationally through our partner – Qualy, a sustainable design company based in Thailand. As we scale up the project we hope to work with an increasing number of related sectors and stakeholders, including Thailand's diverse diving community.
"We believe that this project brings new values to the recycling industry. Plastic pollution is a serious environmental problem. As a player in the industry, we are proud to be part of the Net Free Seas project, helping to protect our precious marine environment and the people that depend on it," said Masayuki Takechi, Managing Director at Kitamura Chemicals (Thailand), Net Free Seas recycling partner.
"We are happy to be a part of Net Free Seas – to help restore the environment and offer income distribution to local communities. The project is doing an important work, focusing on plastic waste that are not traditionally desirable by recycling market." - Thosaphol Suppametheekulwat, Marketing Director at Qualy.
As well as floating nets ensnaring ocean wildlife, fishing gear often tangles with coral reefs, damaging these critical structures. In 2020, the Environmental Justice Foundation (EJF) organised three cleanup dives in the Chumphon, Rayong and Chonburi provinces in Thailand. Our divers and volunteers ensured that the reefs were freed of over 300 kgs of nets.
"For the NFS cleanup dives, we focus on both retrieval and cleaning of nets to increase their recyclability – otherwise the nets we removed will eventually litter the oceans again. I hope to see the nets that we retrieved being recycled in the future, even the old ones." - Parinya Sirinutsomboon, a NFS cleanup dive volunteer.
Through these cleanup activities, EJF hopes to form an association of stakeholders including the Thai diving community, the Department of Marine and Coastal Resources, Department of Marine National Parks and other relevant agencies to develop a database of the quantity and hotspots of ghost gear in Thai waters.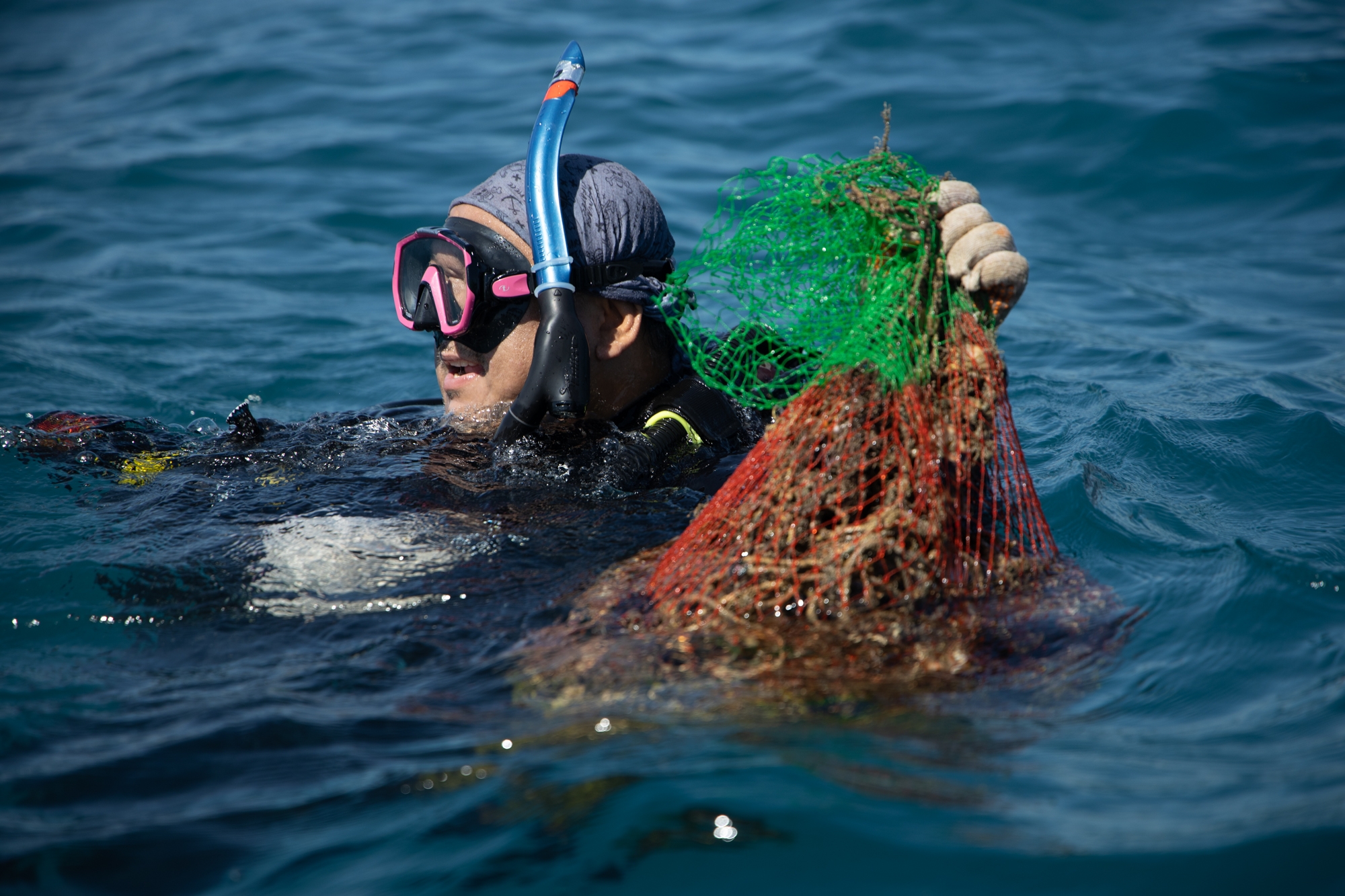 "Our next steps are to scale up the project to engage with more local fishing communities not only in Thailand but other countries including Ghana and Indonesia where the impacts of ghost nets are also acute. We are also keen to engage with more recycling partners and end-user product companies so that fishing nets can be used in a wider range of applications." - Salisa Traipipitsiriwat, NFS Coordinator in Thailand.
Net Free Seas shows that community-based solutions can be implemented to close the loop on plastic waste leakage into our fragile natural environments. The damage that ghost nets inflict every year is vast, and this project empowers coastal communities to clean their own seas of these floating death traps. This will provide crucial protection to ocean wildlife while at the same time giving much-needed economic support to local fishing communities.
This project is kindly supported through grants supplied by the Norwegian Retailers' Environment Fund and the Rufford Foundation.
SIGN UP FOR OUR EMAILS AND STAY UP TO DATE WITH EJF'S NEWS AND EVENTS
By subscribing to our newsletter, you ensure that you will stay up-to-date with latest news on our work and our campaigns, as well as how you have been part of achieving those goals. We carefully select what goes into our emails so that you will only receive relevant and interesting news about our campaigns. We will let you know when we have exposed a critical environmental issue or uncovered human rights abuses. We will ask you to get involved when your actions can make a difference, and we look forward to inviting you to our events.