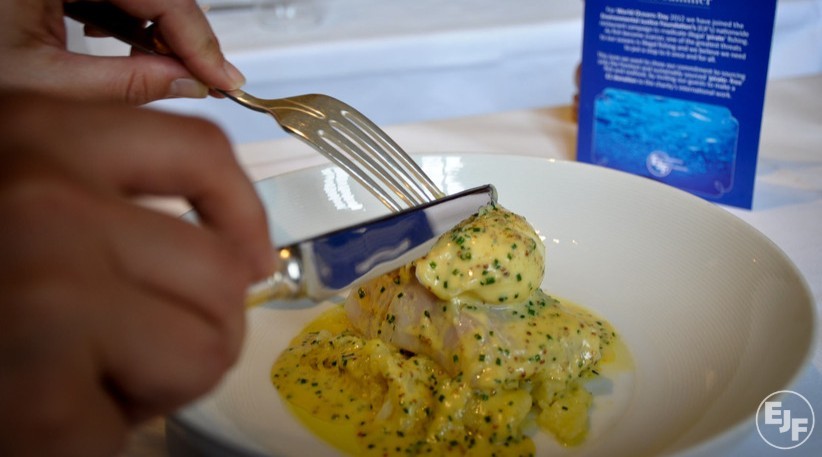 Feb 20, 2019
Was the fish on your plate caught by a slave?
Was the fish on your plate caught by a slave? There's no way to tell, right? So you hope for the best, put it out of your mind, and tuck in.
But what a horrible thought.
That someone might be imprisoned at sea, trapped aboard a boat that almost never makes landfall, so their only chance of escape is to jump overboard. Aboard a boat where they are working 22-hour days or not given enough water to drink. Aboard a boat carrying the fish that will eventually land on your plate.
EJF's investigations have uncovered illegal and unsustainable fishing operations across the world's oceans. As fish stocks are driven to the brink, unscrupulous vessel owners seek to lower their costs – often turning to forced, bonded and slave labour.
One man, an Indonesian working aboard a Taiwanese boat, told us of seeing his friend being dragged to the boss's office ashore and held at gunpoint while being beaten by three men. All for working too slowly.
"My friend was hit many times. They also beat him with a sword, not chopping, but hitting. He had a gun pointed at him. I wanted to say something, I took a step forward, but the sword was already there. The boss and his bodyguards wanted to attack me too."
Others we spoke to reported being underpaid or not paid at all, and having to work as slaves. "I worked [on the ships] to earn money, but I went home empty-handed," says one fisherman despondently. "I asked for consul's help [to get my wages], they didn't respond. That's all. It would take too long to tell you the whole story."
But it doesn't have to be like this.
Illegal fishing and modern-day slavery thrive in the shadows, avoiding scrutiny by government, industry and consumers. To stop it, global fisheries and their supply chains must become much more transparent.
With your help, EJF is challenging all major supermarkets to make a real difference. To sign up to the EJF Charter for Transparency, which gives guidelines on how to scrutinise their supply chains to ensure that there is no chance of horrific abuses like these being part of our food supply.
Be part of it, sign our letter today.
SIGN UP FOR OUR EMAILS AND STAY UP TO DATE WITH EJF'S NEWS AND EVENTS
By subscribing to our newsletter, you ensure that you will stay up-to-date with latest news on our work and our campaigns, as well as how you have been part of achieving those goals. We carefully select what goes into our emails so that you will only receive relevant and interesting news about our campaigns. We will let you know when we have exposed a critical environmental issue or uncovered human rights abuses. We will ask you to get involved when your actions can make a difference, and we look forward to inviting you to our events.