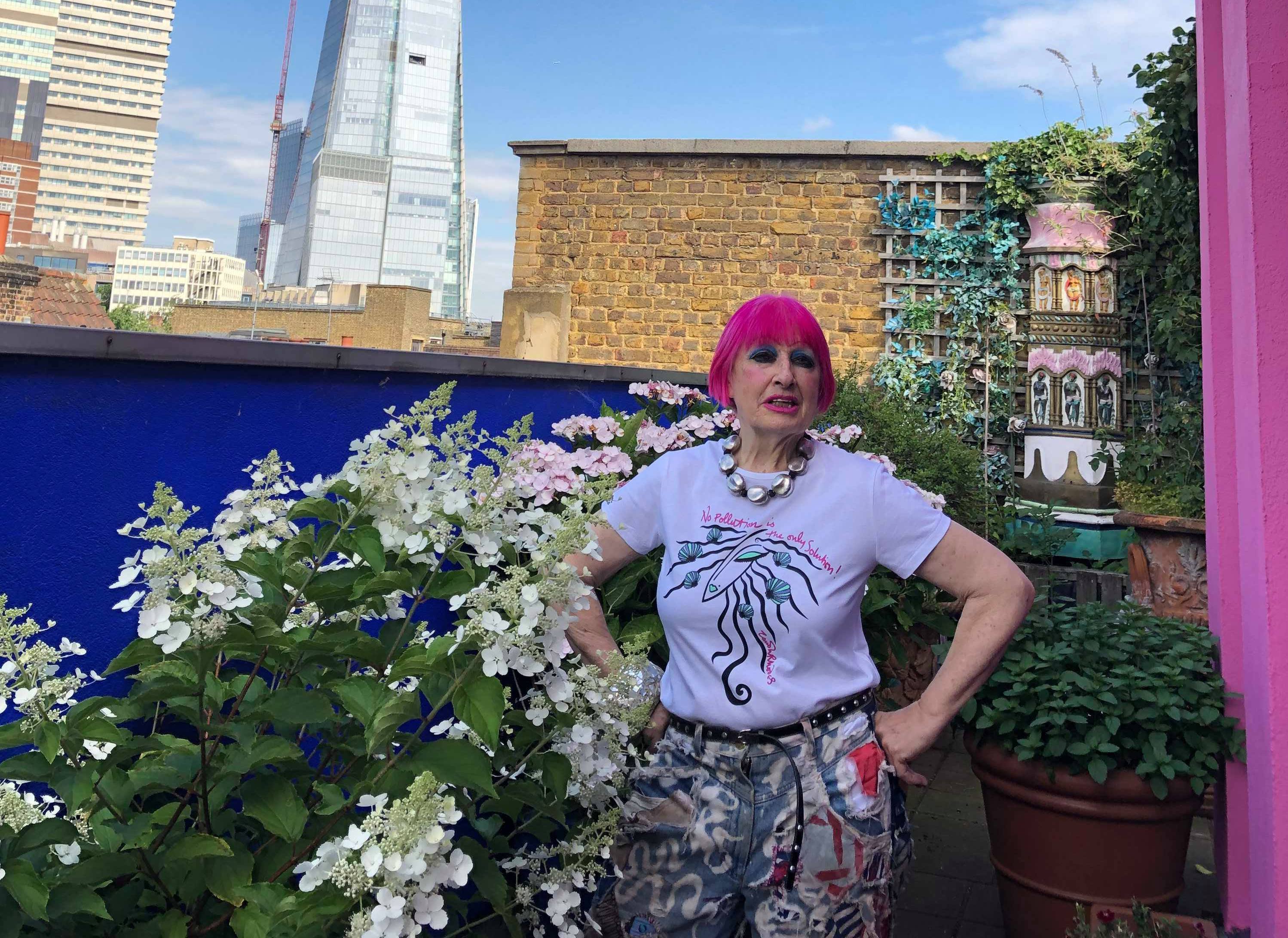 Jul 19, 2019
Zandra Rhodes charity t-shirt will help to 'Save the Sea' from plastic pollution
Iconic British designer Dame Zandra Rhodes has donated a beautiful, bold t-shirt design to the Environmental Justice Foundation (EJF) to help raise awareness of plastic pollution in the world's oceans. Rhodes's eye-catching t-shirt announces that "No pollution is the only solution".
Celebrating 50 years in the fashion industry this year, Rhodes writes "I'm thrilled to be donating another design to EJF, a charity fighting for the heart of our oceans. No pollution is the only solution when it comes to taking care of our seas, the people who live and sail oceans, and incredible wildlife inside. The fact that over 8 million tonnes of plastic is dumped in the oceans every year is appalling, and I hope my design helps people think harder about their use of plastic, and their love of the sea."
Australian actor and model Phoebe Tonkin – star of H20 and Vampire Diaries - wears the t-shirt in a stunning shoot by photographer Eric Guillemain, joining a prestigious line-up of renowned designers, actors and models who support EJF's t-shirt project.
The stylish anti- ocean plastic tee joins EJF's new range of 'Save the Sea' t-shirt designs from Collette Dinnigan, Rêve En Vert and Lowie, available exclusively through EJF's Just-For online store. Each designer has created a beautiful and provocative t-shirt that fuses their belief in sustainable fashion with a passion for protecting oceans. These t-shirts are calls to action, searching for a sea-change in the way we consume (clothes, fish and plastics) and use the natural world.
Produced from organic cotton with reduced impact on our global climate, the t-shirts share a message of hope for our oceans. 100% of the profits go directly to support EJF's work to protect marine environments, wildlife and coastal communities from pollution and over-fishing.
Steve Trent, Executive Director said: "Organic cotton offers a natural alternative to synthetic fabrics that are polluting our oceans. Buying a Just-for T-shirt means you're supporting innovation and sustainability in the fashion industry and playing a vital role in protecting the oceans upon which all life on Earth depends."
ENDS
Notes for editors:
EJF's Just-for project has been supported by EJF Patrons Lily Cole and Katherine Hamnett, Betty Jackson, John Rocha, Eley Kishimoto, Rodnik Band, Vivienne Westwood, Gillian Anderson, Erin O'Connor, Olivia Colman, David Gandy and Christian Lacroix, together with Oceans Ambassadors, Kimberly Wyatt and Max Rogers.
The portfolio has featured in New York, London and Paris Fashion Weeks; and coverage including Vogue, Elle, Grazia, Marie Claire, Guardian, FT and The Telegraph. T-shirt sales have raised over £600,000 for EJF projects to protect the environment and human rights.
The t-shirts are made from 100% organic, fairly-traded cotton in a factory powered by solar energy. All are available to buy from EJF's online shop: www.JUST-FOR.co.uk; 100% of profits directly supports EJF's oceans conservation campaign.
Key facts
In May, the UN reported that up to 33% of the world's reported fish catch is illegal, unreported or unregulated – thus depriving small-scale fishers of food and income. Around the globe, more than 3 billion people rely on ocean biodiversity for their livelihoods.
The planet is warmer now than at any point in the last 800,000 years and it is heating, fast. In coastal seas, this is leading to the irrecoverable bleaching of coral reefs: half of shallow reefs worldwide have already died, an appalling loss for marine ecosystems.
Every minute the equivalent of a rubbish truck of plastic waste enters the oceans. 100,000 marine mammals and turtles and 1 million sea birds are killed by marine plastic pollution annually.
EJF: works with grassroots communities to protect marine habitats and endangered wildlife including turtles, dolphins and sharks; campaigns to end slavery in fisheries; and promotes traceability and transparency in seafood supply chains.
The Environmental Justice Foundation is an international non-governmental organisation working to protect the environment and defend human rights. EJF is a charity registered in England and Wales (1088128). https://ejfoundation.org/
Contact:
Daisy Brickhill - EJF Press & Communications Officer
Daisy.Brickhill@ejfoundation.org
Tel: 0787194691
SIGN UP FOR OUR EMAILS AND STAY UP TO DATE WITH EJF'S NEWS AND EVENTS
By subscribing to our newsletter, you ensure that you will stay up-to-date with latest news on our work and our campaigns, as well as how you have been part of achieving those goals. We carefully select what goes into our emails so that you will only receive relevant and interesting news about our campaigns. We will let you know when we have exposed a critical environmental issue or uncovered human rights abuses. We will ask you to get involved when your actions can make a difference, and we look forward to inviting you to our events.