Pesticides are poisons. They are linked to long-term health problems, including diseases of the nervous system, reproductive disorders, birth defects and elevated risks of cancer.
Since our launch in 2000, EJF has campaigned to protect our natural environment and human health from the world's most dangerous toxic pesticides. Spanning a decade, our campaign was able to raise international awareness of their catastrophic health risks and secure an international ban of one pesticide: Endosulfan.
Removing hazardous pesticides
Over the course of its campaign EJF has called:
For the promotion of better agricultural practice based on the reduced usage, reliance, and risk from pesticides, and to raise awareness of how the problems associated with pesticide use can be avoided through well-funded, extensive education programmes.
For the promotion of organic production and trade, and for companies and retailers to avoid sourcing products manufactured from cotton grown using harmful pesticides, ensure organic products are available for consumers and actively support the expansion of organic cotton production in the developing world.
EJF's work on toxic pesticides dates back to our launch in 2000. In the decade that followed, our reports the Deadly Chemicals in Cotton and What's Your Poison? highlighted the growing threats of pesticides, particularly to vulnerable farmers in the developing world, who often use them without protective clothing or masks, and close to children, livestock and family food crops.
Our campaign also took us to Cambodia, in 2002, where we worked with local NGO CEDAC to document the widespread use of one particular toxic pesticide - Endosulfan.
From the same family as DDT, prolonged exposure to Endosulfan has been linked to infertility, neurological disorders and physical deformities.
Poisonous Pesticides
Pesticide poisoning impacts can include headaches, vomiting, tremors, respiratory problems and death, while long-term exposure can lead to impaired memory severe depression, diseases of the nervous system, reproductive disorders, birth defects and elevated risks of cancer.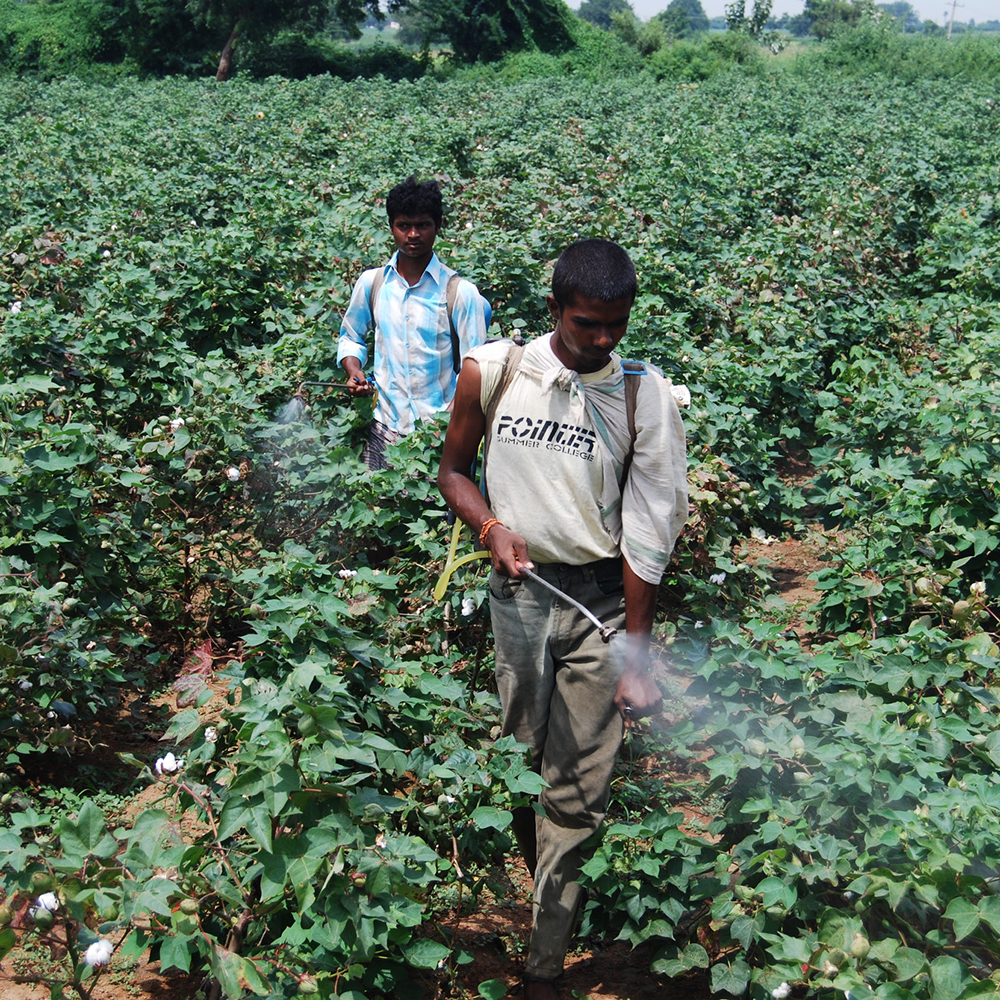 Our 14-year-old boy was spraying pesticides. He fell like a raw fruit from the tree. He was gasping for breath and he died on the way to the hospital.
Family of a victim of pesticide poisoning
A public campaign for sustainable cotton
EJF continues to raise public, industry and political awareness of the most dangerous pesticides, and promote pesticide free agriculture, including organic food and textiles. As part of our public awareness campaign, EJF also produces its own range of ethical t-shirts, made from pesticide free cotton, aimed at showcasing the
A JUST-FOR t-shirt is sustainably sourced, pesticide free and has a carbon footprint just 10% of that of a conventional, non-organic, cotton t-shirt from the high street. Designers to date have included Dame Vivienne Westwood, The Rodnik Band, Eley Kishimoto, Katherine Hamnett CBE, Christian Lacroix, Kenzo, Giles Deacon and many more.
"Art and Fashion is a huge part of who I am, and I want my clothes to represent my values. Through supporting EJF's JUST-FOR project I can... be a part of raising awareness towards building a more sustainable and transparent supply chain." - Philip Colbert, The Rodnik Band