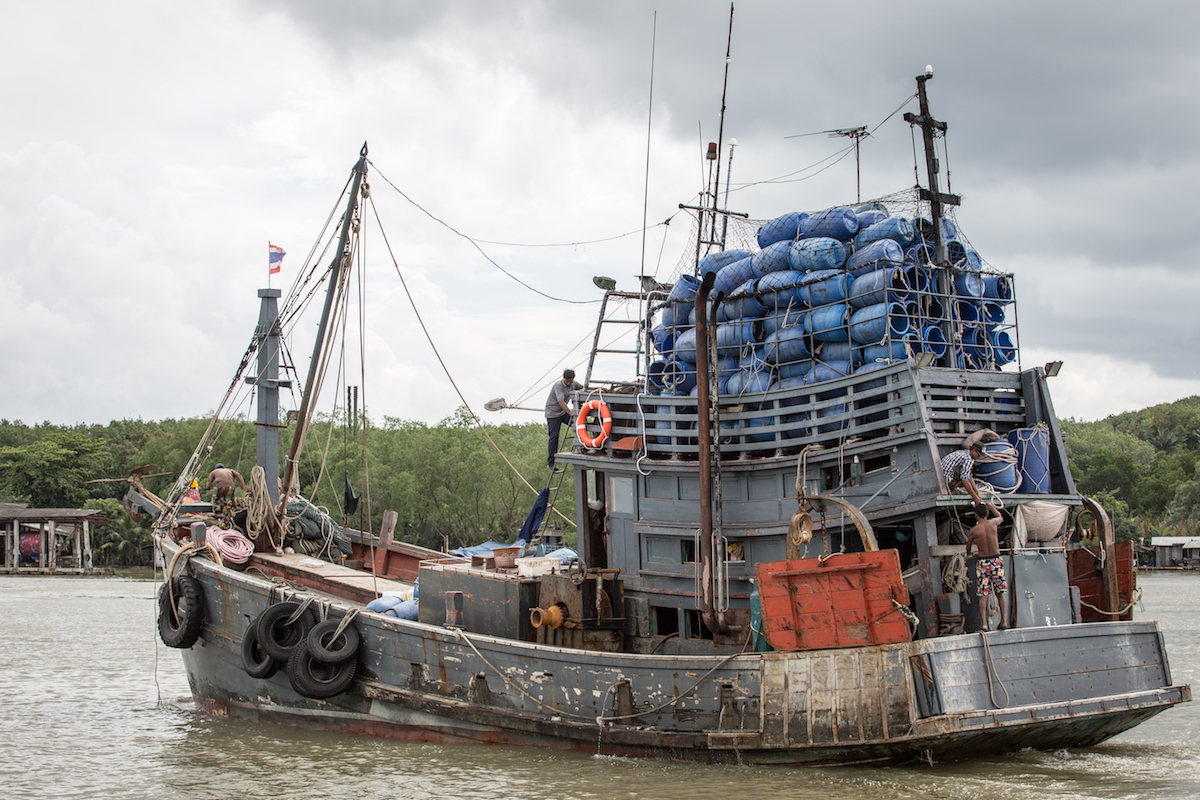 May 21, 2018
As EU extends warning over Thailand's illegal fishing, EJF highlights improvements needed
The European Union's warning, or 'yellow card', placed on Thailand over illegal fishing remains in place, a source from Thailand's Agriculture and Cooperatives Ministry revealed on Wednesday. The EJF has worked closely with the Royal Thai Government since 2015 to tackle illegal fishing and related concerns. Though significant progress has been made, important issues remain to be addressed to deepen and entrench reforms, says EJF.
The EU's yellow card is a formal warning over illegal, unreported and unregulated fishing that could lead to import bans to the EU. This is a serious issue in Thailand, where seafood exports run to millions of tonnes and in 2016 alone were worth US$ 5.8 billion, with US$ 472­ million accounted for by exports to the EU.
Through on-the-ground investigations, EJF has observed improvements in Thailand's monitoring, surveillance, and enforcement capabilities, noting innovative efforts such as the use of covert patrol vessels to combat non-compliance among vessel operators. However, it has also recorded lingering shortcomings that prevent Thailand's fishing industry from becoming truly ethical and sustainable.
Following a meeting with Thailand's Deputy Prime Ministers Prawit Wongsuwan and Chatchai Sarikulya in March, Steve Trent, Executive Director of EJF, said:
"Thailand has made significant progress in ensuring that fishing vessels are compliant with new legislation through the use of monitoring technologies, inspection regimes, and undercover enforcement efforts. However, there are several key measures that are yet to be implemented, especially concerning fleet over-capacity and enforcement actions resulting from port-side inspections. The country must now drive home reforms that will lead to sustained positive improvement to showcase Thailand as a regional and international leader in sustainable fisheries management."
Effective fleet management and addressing overfishing are paramount to stabilising fish stocks. EJF is encouraged by recent progress in identifying fishing vessels that could be phased out, however, it is crucial that the Royal Thai Government commits to a clear, time-bound vessel decommissioning programme. This should prioritise the oldest vessels, the most damaging, and those most likely to be used for illegal fishing.
The 'Port in Port out' (PIPO) network is one of the cornerstones of Thailand's reform efforts and has the potential to be a powerful tool to combat both illegal fishing and associated labour abuses. All fishing vessels above 30 gross tonnes must report to their local PIPO centre before and after every fishing trip, for inspections by the authorities. However, inconsistencies at PIPO centres across the country mean that the positive efforts of the majority of centres are being undermined by weaker inspections elsewhere.
In addition, EJF has observed shortcomings of the inspections that need to be addressed to tackle human trafficking in the Thai fleet, a problem closely connected to illegal fishing. Issues of concern include the inconsistent application of a victim-centred approach towards inspections and lack of translators for migrant crews, meaning they may be unable to give effective evidence in interviews.
To address human rights issues in the industry and entrench reform, the Royal Thai Government has stated that it will ratify two major International Labour Organisation conventions relating to forced labour and working conditions in the fishing industry by June this year. EJF commends these intentions but urges the government to commit to strictly time-bound implementation of these conventions in the near future.
In addition, without a steadfast commitment to ratify the two other key conventions – concerning the right to organize and collective bargaining – workers will continue to be underrepresented and vulnerable to exploitation and labour abuses.
If Thailand commits to building on the efforts it has already made and ensuring the long-term durability of these changes, it would establish the country as a regional and international leader in ethical seafood production. It would also pave the way for increased regional cooperation in the fight against illegal fishing and associated human rights abuses. EJF remains committed to working closely with the Royal Thai Government to bring about these reforms as quickly as possible.
Notes for editors:
Watch EJF's investigative film Thailand's Seafood Slaves and read the report.
Images available on request.
EJF has worked in Thailand since 2013 with initial investigations into the shrimp and trash fish industries. Close collaboration with the Royal Thai Government now encompasses work across several agencies including Department of Fisheries, Command Centre for Combatting Illegal Fishing, Ministry of Labour, Department of Labour Protection and Welfare, and Marine Department.
There are an estimated 4.5 million migrant workers in Thailand with 222,000 workers in the seafood processing sector and approximately 129,000 workers on-board fishing vessels (Thai Ministy of Labour). These workers represent a significant portion of Thailand's workforce and are operating in one of the most dangerous professions in the world yet are still not granted the same rights as Thai domestic workers.
Thai seafood exports of 1.4 million tonnes in 2016 were worth $5.8 billion (UN Comtrade).
Catch per unit effort – a measure of how productive or depleted a fishery is – dropped by 94% in the Gulf of Thailand between 1961 and 2016 and by 69% in the Andaman Sea between 1966 and 2016.
Thailand has a fleet of a proximately 11,000 commercial fishing vessels (Department of Fisheries, January 2018).
Thailand's PIPO network numbers 32 centres across Thailand's 22 coastal provinces. There are a further 19 Forward Inspection Points which help share the workload of the main PIPO centres.
The Royal Thai Government has publically stated that it will ratify the 2014 Protocol to the Forced Labour Convention (P29) and the Work in Fishing Convention (C188) in time for the ILO's Annual Conference in Geneva in June 2018.
Steve Trent – EJF's Executive Director – met with Deputy Prime Minister Prawit Wongsuwan and Deputy Prime Minister Chatchai Sarikulya in March 2018. During the week Steve also met with the Minister of Labour – Police General Adul Saengsingkaew, Minister of Agriculture and Cooperatives – Minister Grisada Boonrach, the Director General of the Department of Fisheries – Dr. Adisorn Promthep, and Deputy Permanent Secretary of Ministry of Foreign Affairs – Mr. Thanee Tongpakdee.
SIGN UP FOR OUR EMAILS AND STAY UP TO DATE WITH EJF'S NEWS AND EVENTS
By subscribing to our newsletter, you ensure that you will stay up-to-date with latest news on our work and our campaigns, as well as how you have been part of achieving those goals. We carefully select what goes into our emails so that you will only receive relevant and interesting news about our campaigns. We will let you know when we have exposed a critical environmental issue or uncovered human rights abuses. We will ask you to get involved when your actions can make a difference, and we look forward to inviting you to our events.