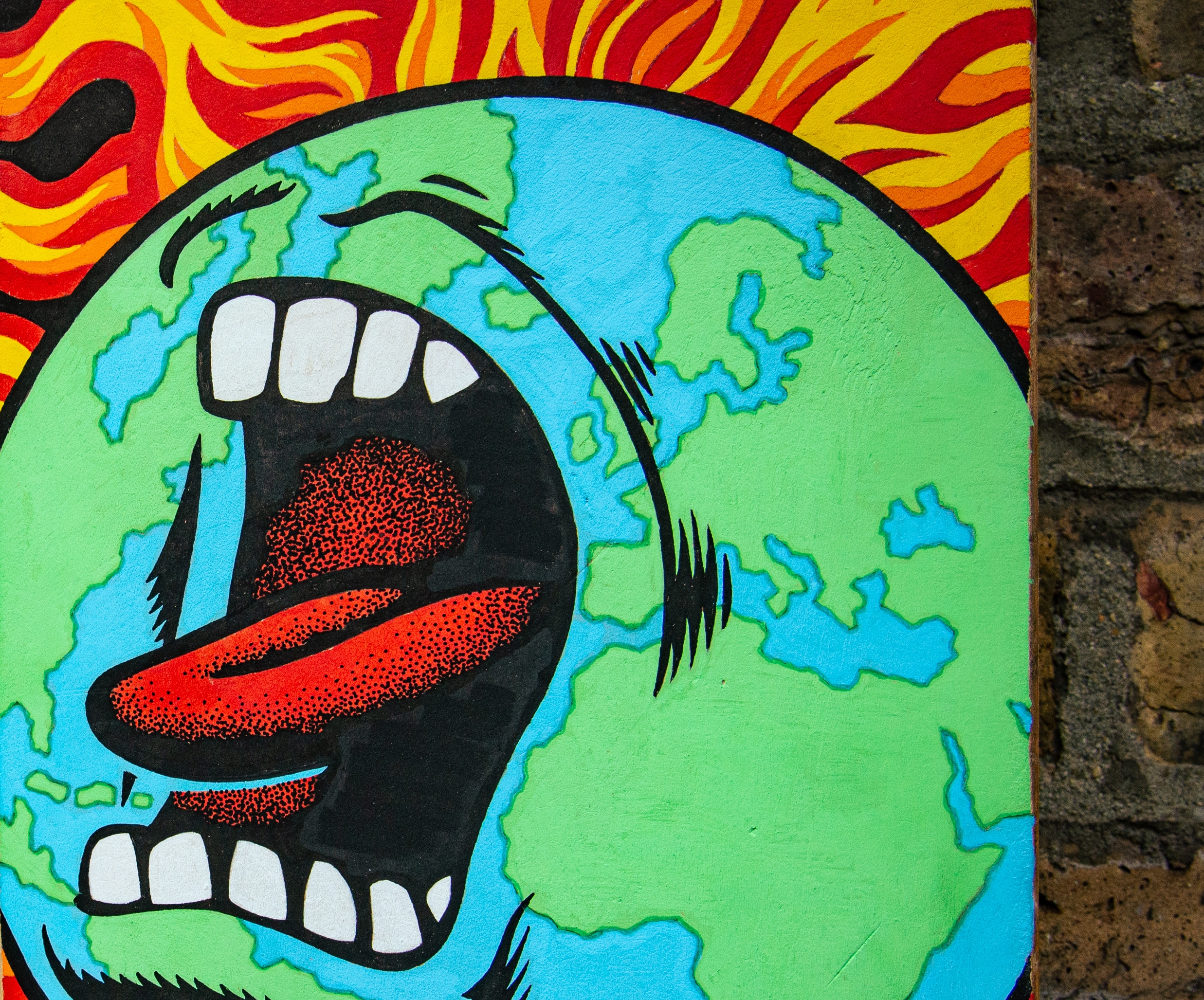 Oct 19, 2021
For Cop's Sake! Skateboard Art x Climate Action at COP26
Skate artists from around the world have been invited to use recycled skateboard decks as a canvas, transforming each one into a unique work of climate-themed art that will be exhibited at the Route One skate shop in Glasgow during the COP26 climate talks. The 'For Cop's Sake!' art show – a collaboration between Route One and re:ply skateboards ­– will run for two weeks from 1 November and the art will be auctioned online by Forum Auctions, at 6pm on 12th November. All proceeds will go to the Environmental Justice Foundation (EJF). The two-week event, during which the Route One shop will be transformed into a climate-action hub, will also feature a live-streamed discussion with a youth climate activist and a climate documentary film screening.
Each "For Cop's Sake!" skate deck has a history – they've been loved, skated, battered and donated to Route One's Deckcycle scheme. From there they've been sanded down and tidied up by re:ply, and finally they've been given new life by skate artists worldwide. Each unique piece promotes a message of circularity, moving away from our take, make, waste mentality to secure a sustainable future, inspiring and uniting the next generation of climate activists.
These works of art will be exhibited at Route One's flagship store, 254 Sauchiehall Street, Glasgow, from 1st - 12th November 2021, culminating in an online auction hosted by Forum Auctions which is open now and ends on Friday 12th November at 6pm (GMT), with all proceeds going to EJF. At the launch of the exhibit on 1st November there will be a screening of Walled Off: Bangladesh's Climate Refugees, a film created by EJF, which follows the story of a young family in Bangladesh living on the frontlines of the climate crisis. Steve Trent, founder and CEO of EJF, will introduce the film and answer questions for a lively discussion on climate solutions.
During the second week of the show, EJF campaigner Isabella Shraiman will be in conversation with Bangladeshi youth climate activist and coordinator of YouthNet for Climate Justice, Sohanur Rahman. This live-streamed discussion will be followed by a live Q&A, with questions submitted by an online audience worldwide via social media. This discussion is free to watch online and open to all.
The launch event and film screening are open to journalists and other dignitaries, and the exhibition will be open to the public for the duration of COP26 and free to attend. The online auction is open to all. EJF staff are available for interview (virtually or in person in Glasgow) throughout COP26.
Steve Trent, founder and CEO of the Environmental Justice Foundation, said: "We are truly delighted to be partnering with Route One and re:ply on this unique project. 'For Cop's Sake!' will also take our shared message of hope to the very heart of Glasgow and countless people beyond. At COP26, the world will either agree on a turning point or a tipping point for our planet; we all need to step up and take action."
Together, EJF and Route One are calling on our political and business leaders to have the vision and ambition for a better future and to understand that investing in a zero-carbon future is the biggest cost-saving of all time.
ENDS
Notes for Editors
Read EJF's climate manifesto for further information on how our leaders, and each of us individually, can do our part to tackle climate breakdown.
If you would like to attend the Route One exhibition launch and EJF film screening or would like to arrange an interview with a member of EJF (virtually or live at COP26), please do get in touch.
This event will take place 1st - 12th November 2021 at Route One's store, 254 Sauchiehall Street, Glasgow.
The Environmental Justice Foundation is an international non-governmental organisation working to protect the environment and defend human rights. EJF is a charity registered in England and Wales (1088128). www.ejfoundation.org