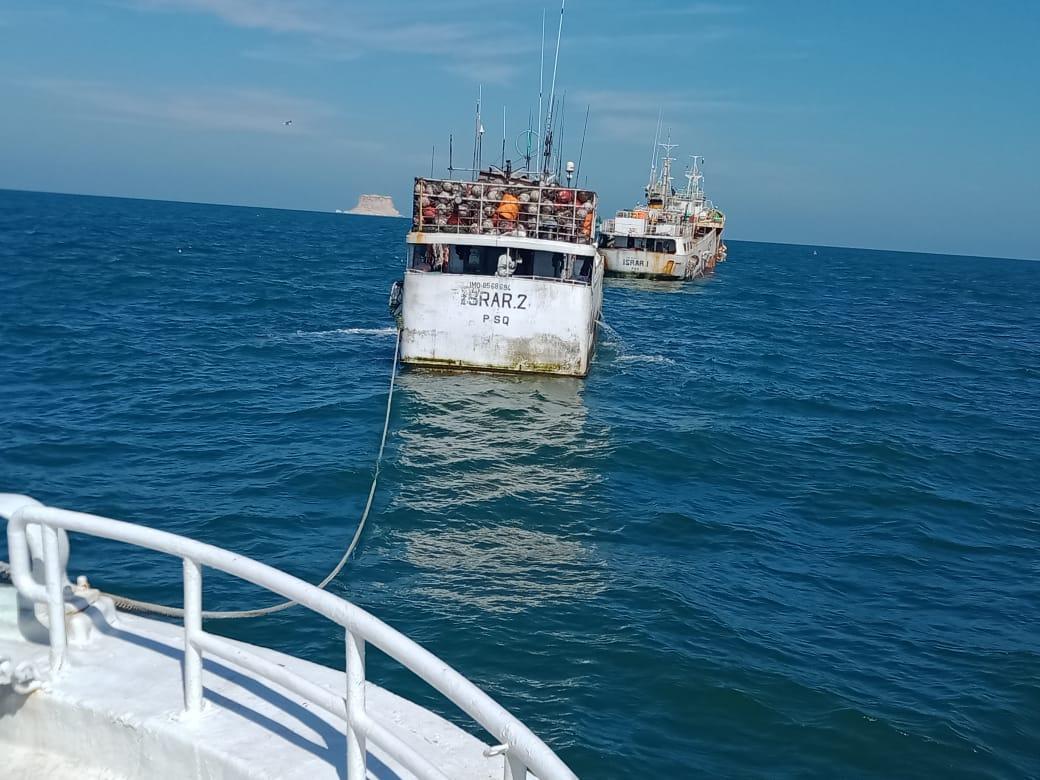 Jul 20, 2022
Oman removes fleet of vessels fishing illegally from register of ships
Oman has struck off a fleet of vessels that have been fishing illegally across the Atlantic and Indian Oceans from their registry. This decision follows years of investigations conducted by the Environmental Justice Foundation (EJF) and will severely restrict the ability of the fleet to carry out further illegal fishing.
The pressure EJF has been putting on the ISRAR fleet, a fleet found to be fishing illegally, has won a key victory. On July 13th, Oman informed the Indian Ocean Tuna Commission (IOTC) that they would delete the vessels from their registry, as "the documentation submitted by owners about the previous history of the vessels was not satisfactory, together with all other evidence collected by all the fisheries departments involved".
Oman has withdrawn all fishing licence and permits to the ISRAR vessels and revoked their Oman registration. EJF stated that it was pleased to see Oman recognise the severity and scale of the fleet's illegality, and act in such a decisive way. The ISRAR fleet will now have to look elsewhere for their flag and permits. This case sets a strong precedent for national governments to take action to end illegal, unreported and unregulated fishing, said the NGO.
The ISRAR fleet, which has been operating in the Atlantic and Indian Ocean for years, has been blacklisted by the International Commission for the Conservation of Atlantic Tunas (ICCAT) since 2021 and by the IOTC since May 2022, as well as dropped by its insurers in March 2022. The fleet has used every trick in the book to avoid scrutiny for their actions, including relocating their fishing activities, changing their vessel names and flags frequently to avoid detection and engaging in trans-shipment, which is when vessels meet at sea to transfer catch, supplies or crew, allowing them to stay at sea for prolonged periods of time.
An acute lack of transparency in the global fishing sector often allows such operators to get away with illegal fishing and the destruction of ocean ecosystems, claimed EJF. In addition, human rights abuses are frequently committed against crew on illegal vessels. Abuses include forcing crew to work inhumanely long hours, verbal and physical abuse and withholding wages. EJF argues that there are simple, low cost steps governments can take to ensure transparency in global fisheries and force such illegal vessels out of the shadows. The industry urgently needs change, said the NGO, stating that they hope that action from Oman is a catalyst for a shift in how countries deal with illegal fishing.
Max Schmid, COO of the Environmental Justice Foundation said, "We applaud Oman for their decision following our years of painstaking investigations into the ISRAR fleet. We hope that Oman will be part of a larger movement to put an end to illegal fishing, and that more governments take the same step to ban such vessels. However, we need global, systematic transparency to be implemented across the whole sector if we hope to succeed in securing an end to the destruction of ocean ecosystems and human rights abuses at sea."
ENDS
Notes for editors
The scale of human rights abuses and illegal fishing at sea, and how transparency can be a vital tool for resolving them, have been reported by EJF in the global report "Out of the Shadows" and a recent in-depth examination of China's distant water fleet, among other reports.
The Environmental Justice Foundation is an international non-governmental organisation working to protect the environment and defend human rights. EJF is a charity registered in England and Wales (1088128). www.ejfoundation.org
For more information contact
Alex Morrice – EJF Lead Digital Campaigner
E: alex.morrice@ejfoundation.org
T: +44(0)7840 748375