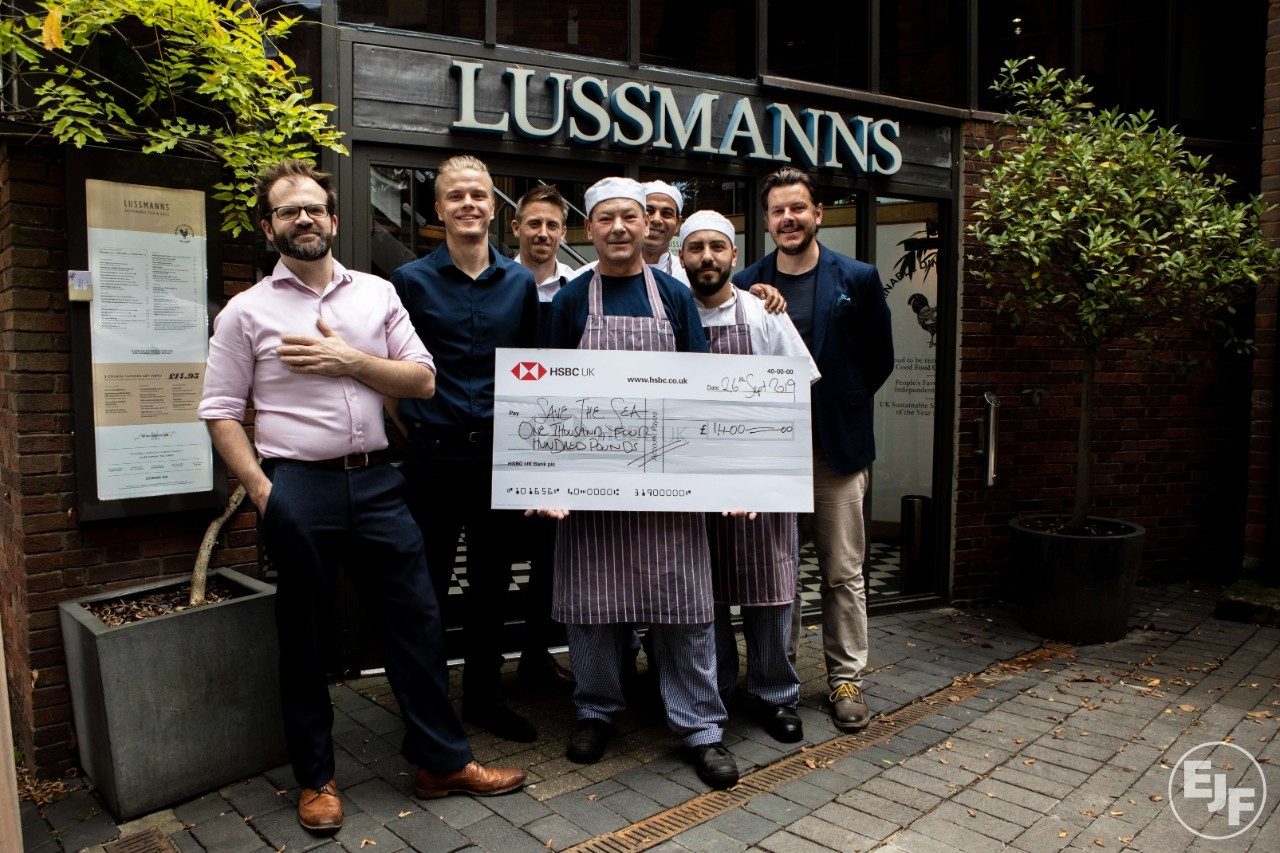 Oct 04, 2019
Sustainable seafood restaurant Lussmanns helps EJF to Save the Sea
Sustainable seafood restaurant Lussmanns has raised a sensational £1,400 this summer to support the Environmental Justice Foundation (EJF) in their campaigns to protect vulnerable marine ecosystems across the globe. The popular Hertfordshire group created a special 'sea bream summer puttanesca', with £1 from every dish aiding the charity's work tackling illegal fishing and seafood slavery. It joined other leading UK restaurants to raise over £3,500 – making waves to 'Save the Sea'.
It was fitting for EJF to partner with the UK's first restaurant group with a 100% Marine Stewardship Council certified menu, in a celebration of sustainable dining. The fundraising campaign ran from World Oceans Day and included a host of ethically minded UK eateries including Michelin-starred Scottish restaurants The Peat Inn and Restaurant Martin Wishart. Lussmanns Sustainable Fish and Grill were serving the seafood special in their Hertford, St Albans, Harpenden, Hitchin and Tring restaurants.
Andrei Lussmann, founder of Lussmanns, said of the collaboration: "We're supporting the EJF campaign because we need seas that are without plastic, we need fisheries that are full. It's quite clear that we won't have enough fish in the sea if we carry on buying fish that's not been certified." EJF Oceans Campaigner Sophie Nodzenski met with Andrei in September, to receive the cheque. They discussed shared commitments to promoting transparent seafood supply chains – ensuring ethically caught fish stays on the menu for generations to come.

The 'Save the Sea' campaign also received the support of sustainable fashion designers – including the iconic Dame Zandra Rhodes – who donated to a new range of ocean-themed t-shirts. In total, sustainable fish dishes and designer t-shirts raised an incredible £5,000 for EJF's Ocean campaigns. These funds will support EJF's grassroots community projects to protect marine habitats and endangered wildlife including turtles, dolphins and sharks. Projects tackling human rights abuses at sea and building sustainable fisheries in Ghana will also benefit from diners' generosity.
This fundraising success story shows that consumers are increasingly waking up to the devastating effect of illegal and unsustainable fishing, and demanding better from restaurants, supermarkets and shops. The latest IPPC report from September illustrates how overfishing is interacting with climate change pressures such as ocean warming and acidification, leading to a greater loss of fish species, imperilling the food security and livelihoods of coastal communities around the world.
EJF's Executive Director Steve Trent comments: "We're proud to have the support of some of the UK's leading restaurants and hotels who are committed to protecting our shared 'blue planet'. The Save the Sea campaign, now in its seventh year, provides a unique platform to inform and engage diners at some of the best eateries in the UK. Consumers and companies play a vital role in protecting oceans when they choose seafood that comes from legal, sustainable and ethical sources."
Notes for editors
The Environmental Justice Foundation is an international non-governmental organisation working to protect the environment and defend human rights.
EJF is a charity registered in England and Wales (1088128).
Contact:
Daisy Brickhill, Press & Communications Officer, daisy.brickhill@ejfoundation.org
Tel: +44 (0)7871946911
SIGN UP FOR OUR EMAILS AND STAY UP TO DATE WITH EJF'S NEWS AND EVENTS
By subscribing to our newsletter, you ensure that you will stay up-to-date with latest news on our work and our campaigns, as well as how you have been part of achieving those goals. We carefully select what goes into our emails so that you will only receive relevant and interesting news about our campaigns. We will let you know when we have exposed a critical environmental issue or uncovered human rights abuses. We will ask you to get involved when your actions can make a difference, and we look forward to inviting you to our events.