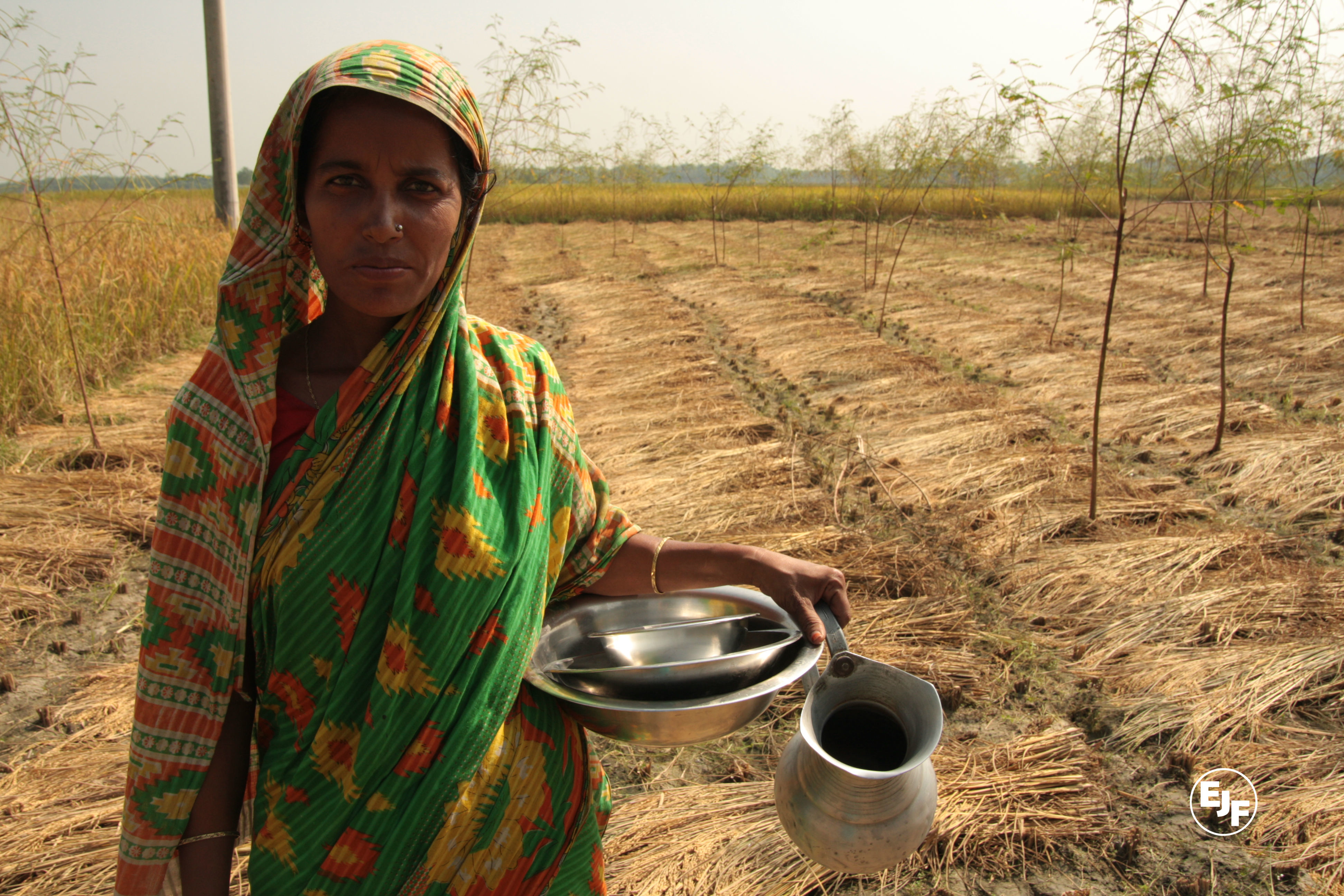 Jan 12, 2018
Women and climate justice: EJF commends new resolution from European Parliament
Climate change should be recognised as a driver of migration, with women and girls especially vulnerable, states a resolution adopted by the European Parliament today. The Environmental Justice Foundation (EJF) welcomes the resolution, which also calls for a panel of experts to examine the topic internationally.
Women and children suffer the most in the face of natural disasters, and will be among the hardest hit as climate change gathers pace. Seventy percent of the 1.3 billion that make up the world's poorest are women, often living in marginal areas vulnerable to droughts, floods, rising sea levels and storms. Once forced from their homes by such climate extremes, women and girls are particularly vulnerable to trafficking and gender-based violence.
The new resolution, initiated by Swedish MEP Linnéa Engström, calls on the EU to make sure that climate change is recognised as a driver of migration, as well as establishing a panel of experts to examine the issue at an international level. The resolution also makes clear that the Parliament is open to a debate on how to respond to climate migration.
"This is a very welcome message from the European Parliament," says Steve Trent, executive director of EJF. "Acknowledging that climate change drives migration is an essential first step towards climate justice, and the suggestion of an expert panel is also good news —the EJF has been calling for an international agreement that will clarify the rights and ensure the protection of climate refugees for some time, and this could be a step towards it."
Engström, who is the rapporteur of the initiative report, says: "Women and girls are acutely vulnerable in the face of climate change. Not only are they likely to be living in the marginal areas that are the worst affected, they are especially vulnerable once displaced. The fact that the resolution was adopted by the Parliament today shows a consensus over the need for a focus on gender equality and human rights for climate refugees."
Trent adds: "Forced migration resulting from climate change is not some far off concept to be considered in the future. This is happening now, to people today, often among the poorest and most vulnerable. EJF applauds this resolution by the European Parliament, which is a step forward in recognising the rights of the most vulnerable. EJF has been calling for the EU to stand up for climate refugees and this is a positive sign that will ensure that those displaced by climate will rise up the agenda in global politics."
Since 2008, weather-related hazards – which are magnifying and multiplying as a result of climate change – displaced an average of 21.7 million people each year, equivalent to 59,600 people every day or 41 people every minute. Millions more were forced to leave their homes due to prolonged droughts and their devastating impacts.
EJF is calling for protection for climate refugees, along with highlighting the absolute priority to end our carbon addiction, immediately reduce greenhouse gas emissions and meet our shared international commitment under the Paris Agreement to ensure that temperature rise is kept below 1.5°C above pre-industrial levels.
ENDS
Notes for Editors:
Read the report that led to the resolution of the European Parliament here.
Read EJF's report Beyond Borders on climate change, migration and conflict, or watch the film.
Film and photos for news release available on request.
EJF defines a climate refugee as: "persons or groups of persons who, for reasons of sudden or progressive climate-related change in the environment that adversely affects their lives or living conditions, are obliged to leave their habitual homes either temporarily or permanently, and who move either within their country or abroad."
About EJF
The Environmental Justice Foundation (EJF) is a UK-based charity working internationally to protect the environment and defend human rights. EJF believes environmental security is a human right.
EJF is one of the few voices calling for legal protection for climate refugees.The Foundation released a report in 2012 – A Nation Under Threat: The impacts of climate change on human rights and forced migration in Bangladesh– highlighting the legal void global climate refugees find themselves in. In its 2014 report, The Gathering Storm: Climate change, security and conflict, the Foundation began calls for a UN Special Rapporteur on Human Rights and Climate Change to safeguard against the worst-case scenarios of climate change.
EJF's Climate Campaign aims to secure international protection for the world's growing population of climate refugees.EJF is calling for a new multilateral instrument, that is adequately and fully financed, to address both the harm to climate-induced migrants and the challenges from their migration.
EJF is a charity registered in England and Wales (1088128). www.ejfoundation.org
Contact:
Daisy Brickhill - EJF Press and Communications Officer
daisy.brickhill@ejfoundation.org
Tel: 07871946911
SIGN UP FOR OUR EMAILS AND STAY UP TO DATE WITH EJF'S NEWS AND EVENTS
By subscribing to our newsletter, you ensure that you will stay up-to-date with latest news on our work and our campaigns, as well as how you have been part of achieving those goals. We carefully select what goes into our emails so that you will only receive relevant and interesting news about our campaigns. We will let you know when we have exposed a critical environmental issue or uncovered human rights abuses. We will ask you to get involved when your actions can make a difference, and we look forward to inviting you to our events.