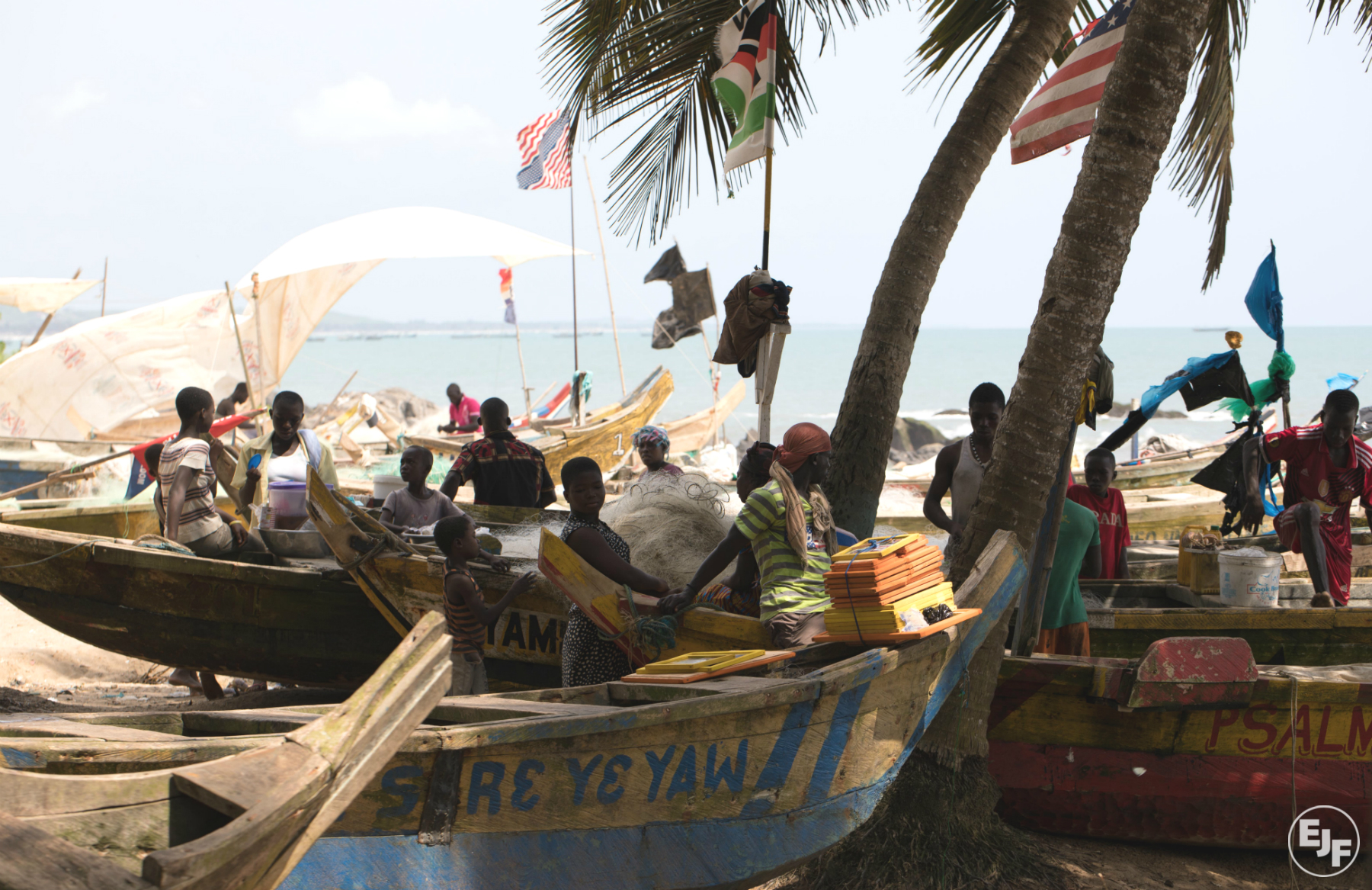 Jun 22, 2018
Ghana's small-scale fishing industry makes its voice heard in fisheries law reforms
Ghana's small-scale fishers, fish traders and processors have come together to present ten key points they feel should be included in the country's fisheries law reforms. They call for stricter penalties for fishing with light, chemicals and explosives; mitigation of impacts from offshore oil development; and an end to the damaging illegal practice known as 'saiko'.
Ghana's fishing communities are becoming increasingly vulnerable as the crisis in the country's fisheries deepens. The average annual income per traditional fishing canoe has dropped by as much as 40% in the last 10 to 15 years, and landings of small pelagic fish – key for local consumption – are at their lowest recorded level since 1980.
The country is currently undergoing a review of its national fisheries law framework, and this week small-scale fishers, fish traders and processors – represented by the Ghana National Canoe Fishermen Council and the National Fish Processors and Traders Association – presented a ten-point communiqué to the Ministry of Fisheries and Aquaculture Development.
The communiqué provides a number of recommendations to address the crisis in Ghana's fisheries, such as stricter penalties for fishing with light, chemicals and explosives, and empowering communities to be able to enforce the law at a local level.
It also emphasises the need to end the illegal practice of saiko. Originally an informal trading system, where unwanted industrial bycatch would be exchanged at sea for fruit and livestock brought by canoes, saiko is increasingly a part of targeted fishing for the trawlers. The fisherfolk strongly recommend that the current law prohibiting saiko be upheld and strictly enforced, along with gear restrictions to prevent trawlers from targeting juvenile fish and species meant for canoe fishermen.
Illegal fishing and over-capacity of the industrial trawl fleet are major factors driving small-scale fishers to use prohibited fishing methods. Measures recommended in the communiqué – such as lengthening the closed season for trawlers and reducing vessel numbers – would not only give fish stocks a chance to recover, they would also give small-scale fishers an incentive to ensure their own methods are sustainable. Expanding the inshore exclusion zone reserved for canoe fishers would also reflect today's reality where fishers travel further out to sea in search of fish because of declining stocks.
Protection of informal yet legitimate rights of access to fisheries is also highlighted in the communiqué. Small-scale fishers in Ghana face loss of access to traditional fishing grounds and landing sites as a result of encroachment from other users and offshore oil development. The law should ensure mandatory consultation with fishing communities on such developments, the communiqué urges, and compensation must be provided for negative impacts. Similarly, when conflicts arise at sea, compensation for damage to fishing gear caused by industrial vessels must also be made more accessible to small-scale fishers.
"EJF fully supports the recommendations made in the communiqué," says Steve Trent, Executive Director of the Environmental Justice Foundation. "The voices of small-scale fishers, traders and processors are a crucial part of the industry and must be heard when it comes to designing fair and sustainable fisheries management for Ghana."
Kofi Agbogah, Director of Hen Mpoano, says: "The ten points presented by the communiqué are central to preventing the collapse of Ghana's fisheries. We urge the Ghanaian government to take them fully into account as part of the fisheries law review."
ENDS
Notes for editors:
A full version of the communiqué is available on request.
Fishing communities struggling to maintain their livelihoods have been given the opportunity to review Ghana's 2002 Fisheries Act, after 15 years of operation.
Overall, 464 fishers, processors and traders were engaged in consultations to gather inputs for the drafting of the future Fisheries Bill. On 15 May, Chief fishermen and Konkohemaa from all 45 coastal communities across the Central Region convened in Cape Coast to validate the results of the local level consultations and agree on a ten-point communiqué as the general position of the artisanal fishing industry of the Central Region.
The consultations were held with the support of the Far Dwuma Nkɔdo project.
About Far Dwuma Nkɔdo:
The three-year (2017-2019) project is being implemented by the Environmental Justice Foundation (EJF) and Hen Mpoano with the financial support of the European Union and German Federal Ministry for Economic Cooperation and Development (BMZ). As part of this project, EJF and Hen Mpoano are working to help drive a reduction in illegal fishing, and give local fishers a voice in the process to build a more sustainable fishing sector:
Through a unique combination of local surveillance and remote monitoring, we are strengthening the monitoring and reporting of illegal fishing, and empowering local communities to document illicit fishing activities.
We are working to empower small-scale fishers, vulnerable and marginalised groups to articulate their interests in fisheries reforms and implement fisheries co-management.
We are promoting alternative livelihood options for small-scale fishing communities, helping them to diversify their local economies and to reduce their dependence on fishing.
For more information, visit www.ejfoundation.org or www.henmpoano.org
The Environmental Justice Foundation is an international non-governmental organisation working to protect the environment and defend human rights. EJF is a charity registered in England and Wales (1088128). www.ejfoundation.org
Hen Mpoano is a non-profit organization based in Ghana. Its vision is for inclusive and integrated management of Ghana's coastal and marine ecosystems to generate long-term socio-economic and ecological benefits. www.henmpoano.org
Contacts:
Daisy Brickhill - EJF Press & Communications Coordinator
daisy.brickhill@ejfoundation.org
Tel: +447871946911
Charles Smith – Communications Officer (EJF Ghana)
charles.smith@ejfoundation.org
Tel: +233245412531
Cephas Asare – Programs and Communication Officer
Tel: +233264566788
SIGN UP FOR OUR EMAILS AND STAY UP TO DATE WITH EJF'S NEWS AND EVENTS
By subscribing to our newsletter, you ensure that you will stay up-to-date with latest news on our work and our campaigns, as well as how you have been part of achieving those goals. We carefully select what goes into our emails so that you will only receive relevant and interesting news about our campaigns. We will let you know when we have exposed a critical environmental issue or uncovered human rights abuses. We will ask you to get involved when your actions can make a difference, and we look forward to inviting you to our events.