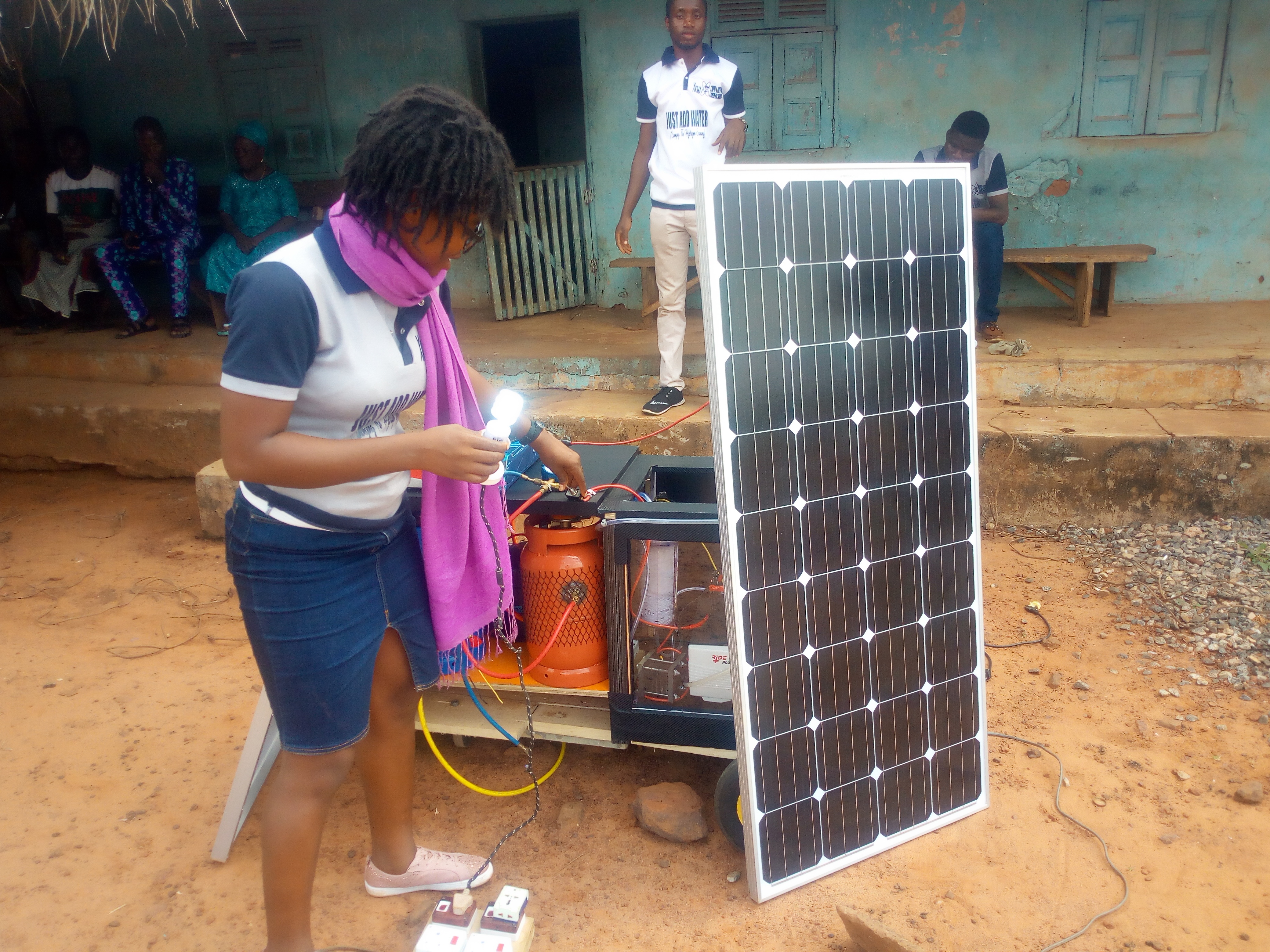 Oct 17, 2022
Local solutions, global support: What the Global South needs to achieve real climate justice
As a child growing up in Nigeria, Joy Egbe saw firsthand how the climate crisis can make life extremely difficult, and even take it away. As she got older, she decided to dedicate her life to creating solutions for vulnerable people affected by Africa's energy crisis, by innovating and providing zero-emission energy products. Africa and the rest of the Global South are hit the hardest by the climate crisis – they need local solutions and opportunities for an energy transition, supported by fair climate finance from industrialized countries.

My journey towards climate activism
Growing up as the daughter of a farmer, I wasn't aware of how climate change affected my daily life. I didn't know why farming was not enough to provide for our family at times, and why we had to wake up at 4 am to get clean water. After the death of a family member because of dangerous fumes in their home, the grief I felt made me question why a small power generator could kill not just one person, but thousands. I took these questions with me to university.
At university, my journey to climate activism began when I realized climate change was tied to many of the struggles I faced growing up. I met other students who were passionate about the issue, and joined a group that went to schools to educate pupils on climate issues, participated in community market clean ups, and worked on university conservation expeditions. When working with local communities, I was able to empathize with what they go through on a daily basis, such as a lack of electricity, health challenges and other social and economic issues.
Bringing green, clean energy to Nigeria
Working with communities also brought back many childhood memories for me, and I wanted to find solutions to the problems I saw every day. I began to realize that awareness alone is not enough – we have to build local solutions to meet people's needs. People cannot change their livelihoods without being provided with an alternative solution. This led me to co-found Newdigit Technologies, a start-up where we hope to provide zero-emission energy products and solutions for households in Nigeria. We use innovative hydrogen technology, which harnesses sunlight and water to provide electricity and cooking gas for homes and small businesses. Some of our products include our Light Nigeria Product Device, which is used for providing electricity, and our Just Add Water device, which can be used for both electricity and cooking.
Since we started our business in 2018, we have been able to provide critical solutions to communities in Nigeria. Our products are used to power a large number of homes and small businesses, working towards our mission of clean, green solutions to preventing further air pollution and toxic fume deaths from electricity generators. During the peak of the COVID-19 pandemic, our products were used to support large hospitals. While it was a challenge to get the technology and parts we needed due to pandemic travel restrictions, we continued our work.
Building power in Africa and beyond
The impacts of the climate crisis are felt much more deeply in the Global South than the Global North, despite the fact that least developed countries produce less than 10% of global emissions. The power balance is also unequal: many of the world's elites and decision-makers who have the power and influence to make key decisions to help reduce the impacts of climate change are in the Global North, and have failed to take the action needed.
From my experiences, I've learned that addressing the climate crisis requires an entrepreneurial approach in building and designing solutions to address climate impacts on communities. In particular, I believe we must innovate solutions around energy. The future of the energy solution in Africa to meet demand must not be limited by scalability or have a weak production cycle, and it must support a circular economy. I have found that the only energy solution that comes close to meeting these requirements is sustainably produced hydrogen.
Not all forms of hydrogen are sustainable, but at Newdigit, we use sunlight and water to create a renewable, green source of energy. Our products split water into hydrogen and oxygen, and then hydrogen is used to create electricity. While solar power cannot be used when night falls, water can be used at any time, making our hydrogen products usable 24 hours a day. We can also scale our hydrogen power to be used for different uses, such as gas for cooking, electricity production and fuel for vehicles. Because of this, I believe that hydrogen in combination with solar energy can meet Africa's energy needs. Investing in alternative energy sources is crucial to eradicate poverty in Africa, building a good healthcare and education system, as well as a more sustainable economy.
It's time to create a fair future
African nations need partnerships and systems that will accelerate the transition to net-zero by creating opportunities for local climate solutions and innovations to be scaled up and become commercially viable. This will involve investment in research institutions, youth-led green businesses, and access to financial support for local climate solutions. Fair climate finance is essential to unlocking solidarity and rebuilding trust between all the world's nations that must fight the climate crisis together. Industrialized countries need to mobilize to live up to their agreed funding targets to the Global South and build on them. Climate finance needs to be both transparent and accessible and provided in addition to development assistance. It is the only real way to achieve climate justice.
We cannot continue business as usual. While world leaders fail to come to transparent and actionable agreements, we will be here on the ground, working to directly improve the realities of people who are suffering from the impact of the climate crisis every day. The Global South is not helpless – innovative people are already working to save their communities from impacts they did not create; it's time for our leaders to step up.
About Joy
Joy Egbe is a passionate social entrepreneur, inventor, vegetarian and climate activist, with over 7 years of experience in advocacy, policy and entrepreneurship. After graduating from university in 2015, she co-founded Newdigit Technologies in 2018 where she works as the Chief Impact Officer with a vision to eradicate energy poverty in Nigeria. Her fight against climate change has been recognized by the Nigeria Climate Innovation Centre (NCIC) and she is the winner of the Rosatom "Atoms for Africa" competition in support of SDGs in 2019.
Joy has a wide range of experiences as an international climate activist. She is a member of the United Nations Academic Impact fellows and is among the first-ever UN Youth Climate Change Summit green ticket awardees. She is also a UNEP Young Champion of the Earth Nominee Finalist and a Youth4Climate Pre-COP26 National Delegate, where she worked with other young climate activists in Milan to create a youth climate policy paper and a manifesto for leaders that attended COP26. Joy then participated at COP26 as a delegate, networking and collaborating with initiatives and young people from across the globe to find climate solutions, with support from the Environmental Justice Foundation. Joy is committed to eradicating energy poverty in Africa by building sustainable solutions that will protect our planet and people from the impacts of the climate crisis, and continues her important work in Nigeria.