Our ocean covers 70% of our planet. It is the primary source of food and income for some 3.5 billion people around the world. Yet our fisheries are being pushed to the brink. Over 30% of fisheries are now considered overexploited and over 60% are fully exploited, yet unscrupulous criminals continue to pillage our ocean. They operate without licenses and in protected areas, use banned fishing gear, and target protected species. Operating outside of the law, they steal from the world's poorest people, undermine global fish populations and decimate ocean wildlife.
Exposing and eradicating illegal fishing
EJF is working to expose and eradicate illegal fishing and protect the coastal communities and wildlife that depend on our ocean.
What is IUU fishing?
Illegal, unreported and unregulated fishing includes fishing without a license, under-reporting catch, catching prohibited species, operating with illegal fishing gear, or fishing in marine protected areas or areas reserved for small-scale fishers.

The Fisheries Information Network: Exposing illegal fishing in West Africa
Since 2006, EJF has been empowering communities most at risk of illegal fishing to expose and combat these damaging practices and fight back at the companies that continue to put legitimate fishers at a disadvantage and steal food from the mouths of the world's poorest.
From humble origins in Sierra Leone with one boat and one fisherman, EJF's Fisheries Information Network (FIN) has now expanded across West Africa, the Horn of Africa and South East Asia.
The network connects local activists and small-scale fishing communities with our remote, satellite monitoring technologies to identify and document potential illegal fishing practices.
This information is then relayed to relevant stakeholders and decision-makers in the vessel's flag country, the country in which illegal fishing has occurred and where the catch will be unloaded, as well as in the European Union.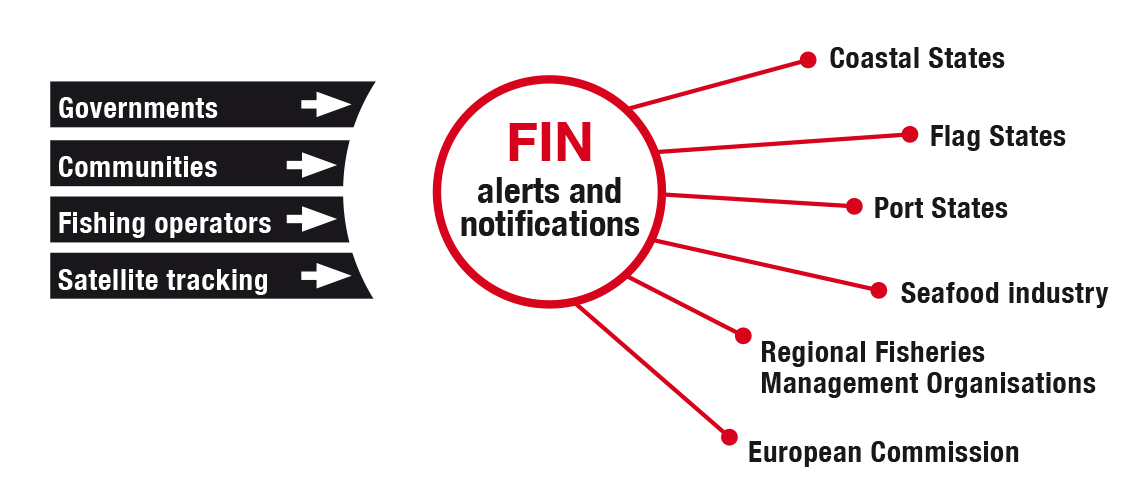 Local action, global change
In Sierra Leone and Liberia, a five-year programme - made possible thanks to funding from the European Union - saw EJF train local community associations to expose and report illegal fishing activities. The work was focused in southern Sierra Leone around Sherbro Island and Grand Cape Mount county in northern Liberia. This led to action being taken against industrial illegal fishing vessels and the creation of Community Management Associations in both areas, where local communities took greater ownership and control of their local fisheries.
To date, the information gathered by local communities has led to scores of official investigations, the delisting of illegal vessels, criminal proceedings brought against, and millions of dollars of fines levied on, ship owners and key legal reforms in countries whose vessels have been involved in illegal fishing.
If we organize and do it well, our children will do better. But if we mess it up, as we are doing now, [our children] have no future.
Sorto Mensah, Ghana Inshore Fishermen Council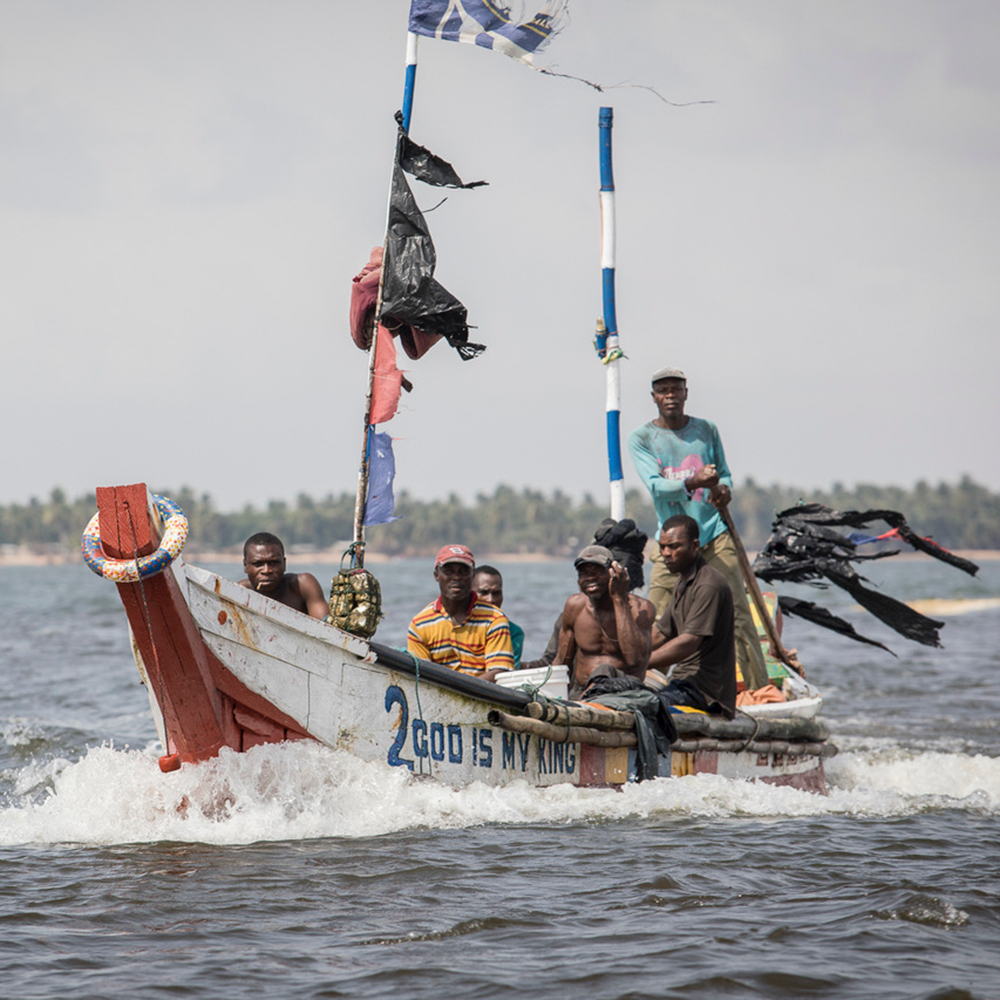 Driving unprecedented action to tackle illegal fishing
In 2010, the European Union introduced world-leading legislation to combat illegal fishing, and EJF works with like-minded NGOs, Pew, WWF and Oceana to ensure the regulation has the ambitious impact envisioned.
EJF investigations into the activities of vessels from several countries - including Panama, Thailand, Ghana and South Korea - has helped the EU apply its regulation, awarding 'yellow card' and 'red card' sanctions for inaction, and rewarding countries - by removing the warning - when they take positive action. This in turn has triggered ambitious reforms in countries where illegal activities are rife.
Between 2010 and 2014, EJF worked to investigate and document large scale illegal fishing being undertaken by Korean vessels in West Africa. Following an EU 'yellow card' warning in 2013 - a direct result of these investigations - the government of South Korea took measures to deter and eradicate illegal fishing practices and saw its sanction lifted. Since 2015, EJF has worked as an official advisor on fisheries governance to the government of South Korea, and our work has prompted other key legal reforms.
In Thailand, EJF has worked since 2012 to uncover and investigate systemic human rights and environmental abuses in the country's fisheries and their relationship to the devastation inflicted on the country's oceans for almost half a century. We continue to work to address these abuses and the over - and illegal - fishing which paved the way for them, supporting measures taken by the Royal Thai Government to reform its failing fisheries.
The challenges of illegal fishing and human rights abuses on our oceans transcend borders. One nation can not combat this global problem alone, and EJF aims to promote and enhance regional and global co-operation on the issue. In 2016, EJF expanded its investigations into Taiwan.
A global voice in the fight against illegal fishing
Through our strong satellite and at-sea evidence of illegal fishing, and its impacts on local coastal communities, EJF is able to bring a strong voice to the global discussion on illegal fishing and we work with all stakeholders – governments, business and civil society – for real systemic change.
In a bid to clean up seafood supply chains, EJF has engaged with brands, retailers and companies, and teamed up with organisations including the British Retail Consortium and Carrefour – to help identify and close the doors to illegal seafood entering the market.